Skip to product information
Individual Observations Duplicate Book EYLF/MTOP V2
Use the Weekly Programming Diary
Regular price $ 44.00 Sale price $ 29.95 Save 31%
On sale for a limited time
Trusted Brand Used by 1000s

Flat $10.99 Domestic Shipping

Love it or your money back

Free and Easy Returns
Observations Linked to EYLF & MTOP Learning Outcomes Version 2.0
This is a duplicate book for writing individual children's observations and reflections (2 pages duplicated) (50 sets). 
This book allow you to write individual assessments / observations / reflections, one per page in duplicate. You can put one copy in the child's portfolio and keep one for your own records.
It can be used in conjunction with the Weekly Programming and Reflection Diary series of books, by making an observation note in the diary and expanding on it in the duplicate book. It can also be used on its own. This book allows you to link to the new approved learning frameworks v2. Read more about the new frameworks.
Examples of observations in childcare
Life is pretty easy now.
What a great addition to our documents, providing one place for copies of all our observations to be kept together."
Recommended Products
Others have frequently bought these as well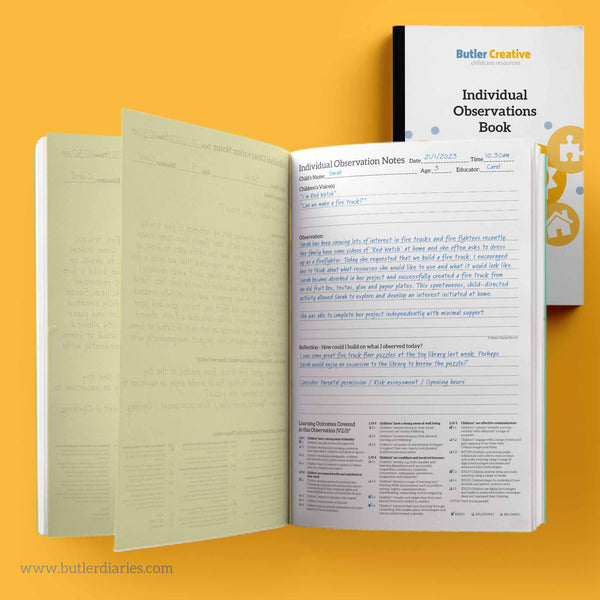 Individual Observations Duplicate Book EYLF/MTOP V2
Regular price $ 44.00 Sale price $ 29.95
Recently Wishlisted
Add on optional description to this section
The book is excellent and keeps all paperwork together
I haven't received the books yet.
Hi Debbie, I apologise for the delay. The Christmas period is busy for suppliers and AusPost which means orders were taking longer to arrive. I can see you received your order and hope you have a wonderful year of planning in 2023!
This is a fanastic partner to our diary
Great companion to the Weekly Programming and Reflection Diary
Hi Naomi, thank you for your lovely review!
I like this product have reviewed pages and I cant wait to use this in 2021.
Hi Karen, thank you for your review. We hope you enjoy using it with your Weekly Programming and Reflection Diary!
I absolutely love the products I got from Butler Creative. Now using only their product like programme and reflections, daily dairy, observation book. In Observation book, most beautiful thing is it's duplicate book so I can have a copy what exactly I wrote. Life is pretty easier now. Thank you Butler Creative.
Hi Moushumi, thank you so much for your kind review. We love hearing customers just like you are enjoying Butler Diaries' resources and how they can be used together to simplify your documentation. Thank you for being our customer.
Our 1st year using this but think the idea of this one observation sheet will help us improve our individual child evaluations
Hi Mira, thank you for your review. We hope the Individual Observations Duplicate Book was able to support you in your documentation!