PREORDER NOW for mid September
Regular price
Sale price
$ 59.99
Unit price
per
Sale
Sold out
Pre-order now for delivery in September.
Want to do better at assessment in 2024? This diary is an indispensable tool for programming and reflection referencing the EYLF for compliance under the NQS. 
The Central Outdoor Programming Diary is designed to ensure intentional teaching does not stop when going outdoors. It is a space for all rooms to collaborate on planning a deliberate and purposeful outdoor program that values each child.
Save time checking each room's individual program by collaborating together on your shared outdoor spaces. All while simplifying your workload with this all-inclusive diary that enables quick access to weekly and future programming utilising both notes and visuals.
NEW Binding and Covers. Now offering the best of both worlds with a super sturdy hard cover and robust gold spiral binding allowing easy opening and laying flat. Colour interior and a ribbon bookmark, now makes this the ultimate outdoor educator planner!
This diary:
Captures the planning of each room collaboratively in one program,
Allows the indoor and outdoor programs to connect and extend children's learning,
Supports Educators in charge of setting up outdoor spaces with a clear picture of what is planned for each room,
Enables intentional and inclusive environments for all children outdoors,
Provides Families with easily accessible information about the outdoor program and how their children's learning is being planned for,
Fosters children's autonomy, decision-making, and connection with Nature through purposeful boxes on Risky Play, Messy/Water Play, and Nature/Exploration.
Build collaborative partnerships as children's learning can be recorded by all staff in the outdoor environment. The Evaluation & Extension Ideas reflection space allows all staff to capture children's learning and reflect on the success and challenges of the program. Children are also encouraged to collaborate with 'Spontaneous/Children's Choice' which enables children's autonomy as they craft their own learning through their interests.
How to use this diary:
One Central Outdoor Programming Diary is used for each outdoor space
Educators in all rooms who use the outdoor space collaborate on planned experiences and learning for children that extend on their previous indoor and outdoor experiences
The program includes;

Fine Motor/Cognitive experiences,
Gross Motor/ Physical experiences,
Risky Play,
Messy/Water Play,
Nature Play/Exploration,
Structured Games, 
Spontaneous/Children's Choice, and lastly
A Blank Box to use in a way that best enables your centre's program. For example, this could be Family/Community Input, Changes to the Environment, or Observations Captured.
Use this diary in conjunction with the Weekly Programming and Reflection Diaries
Customisation

Do you have an idea for a diary or other product? We can look into that for you.
How about some custom designed covers for larger order? No problems at all!
See more here or Drop us a line
Share
View full details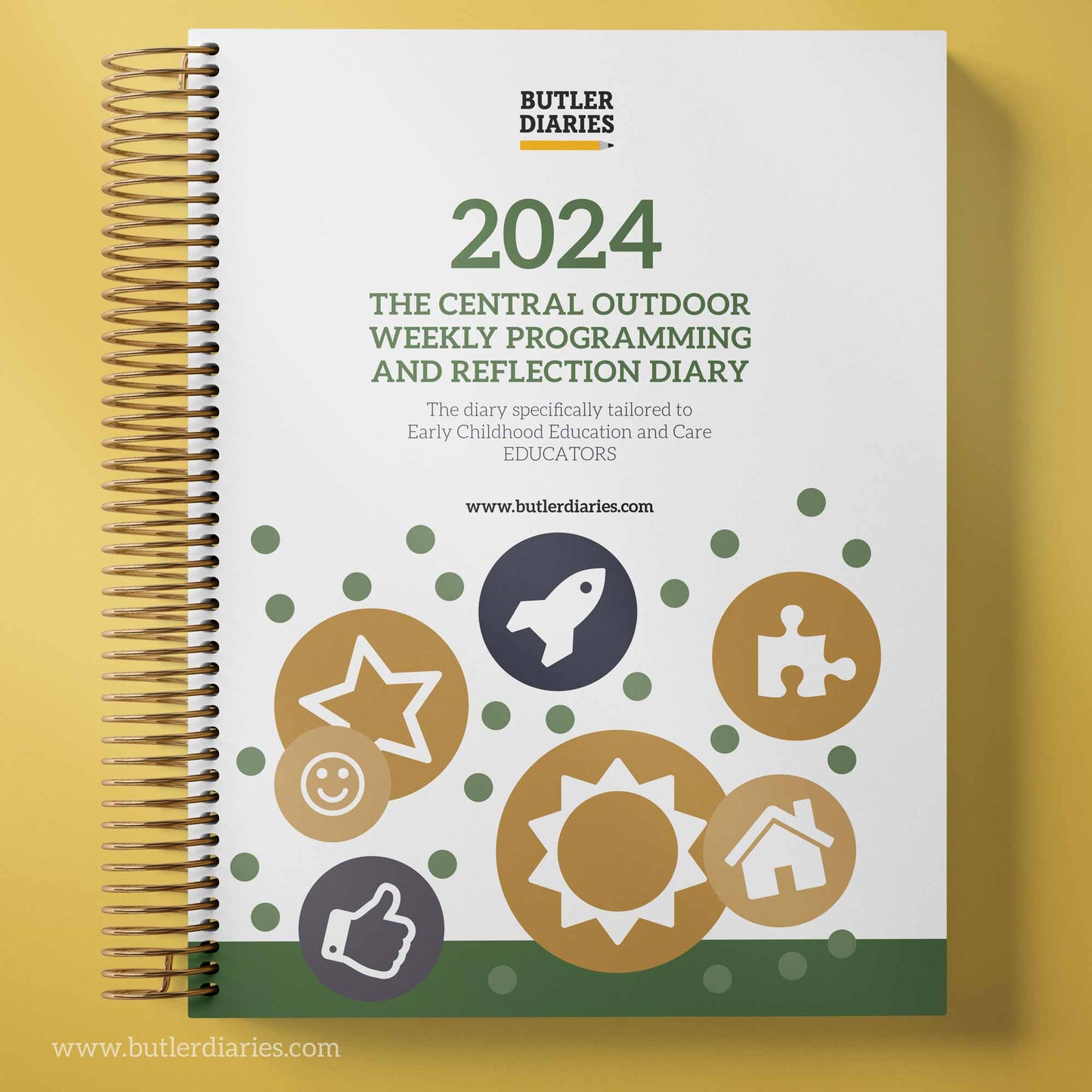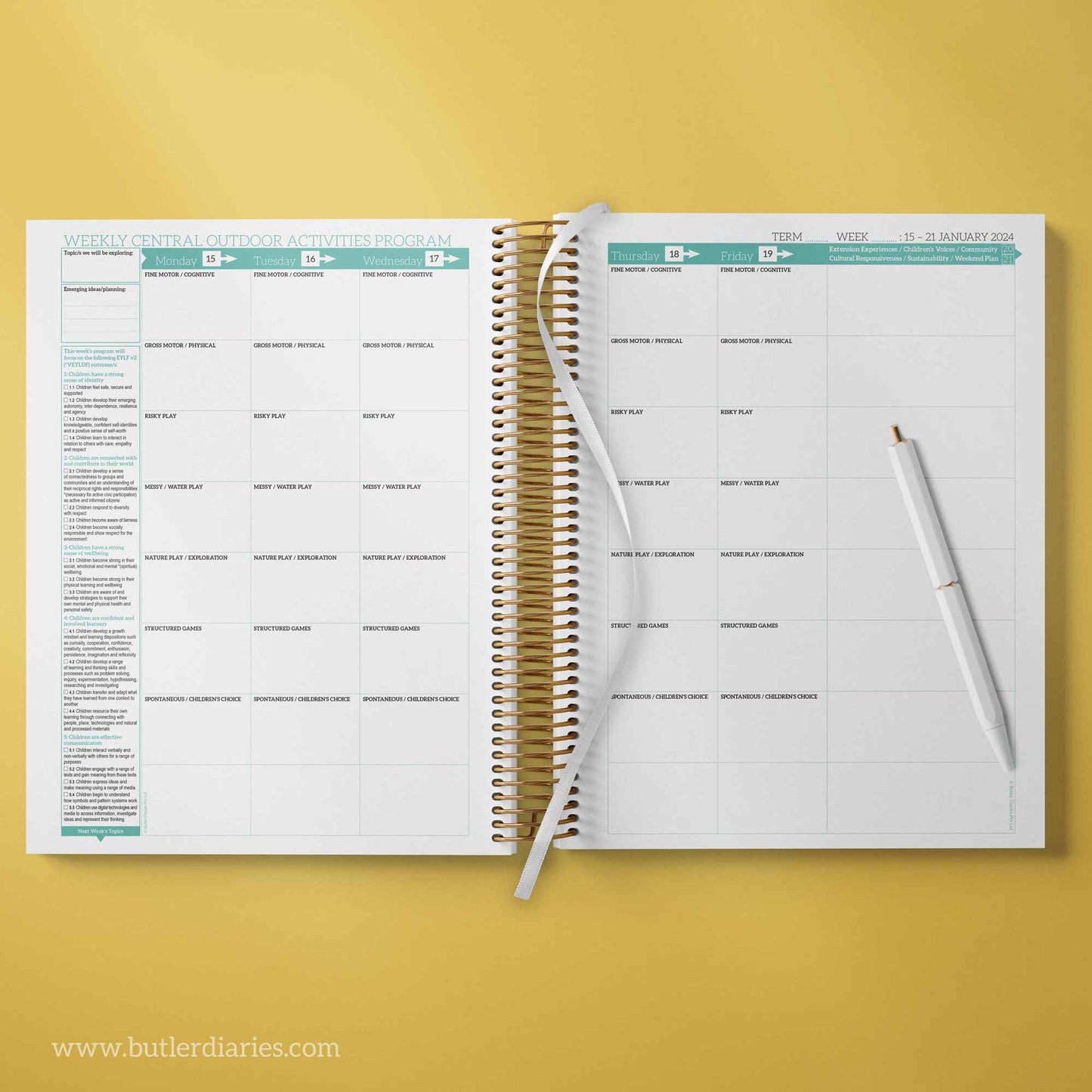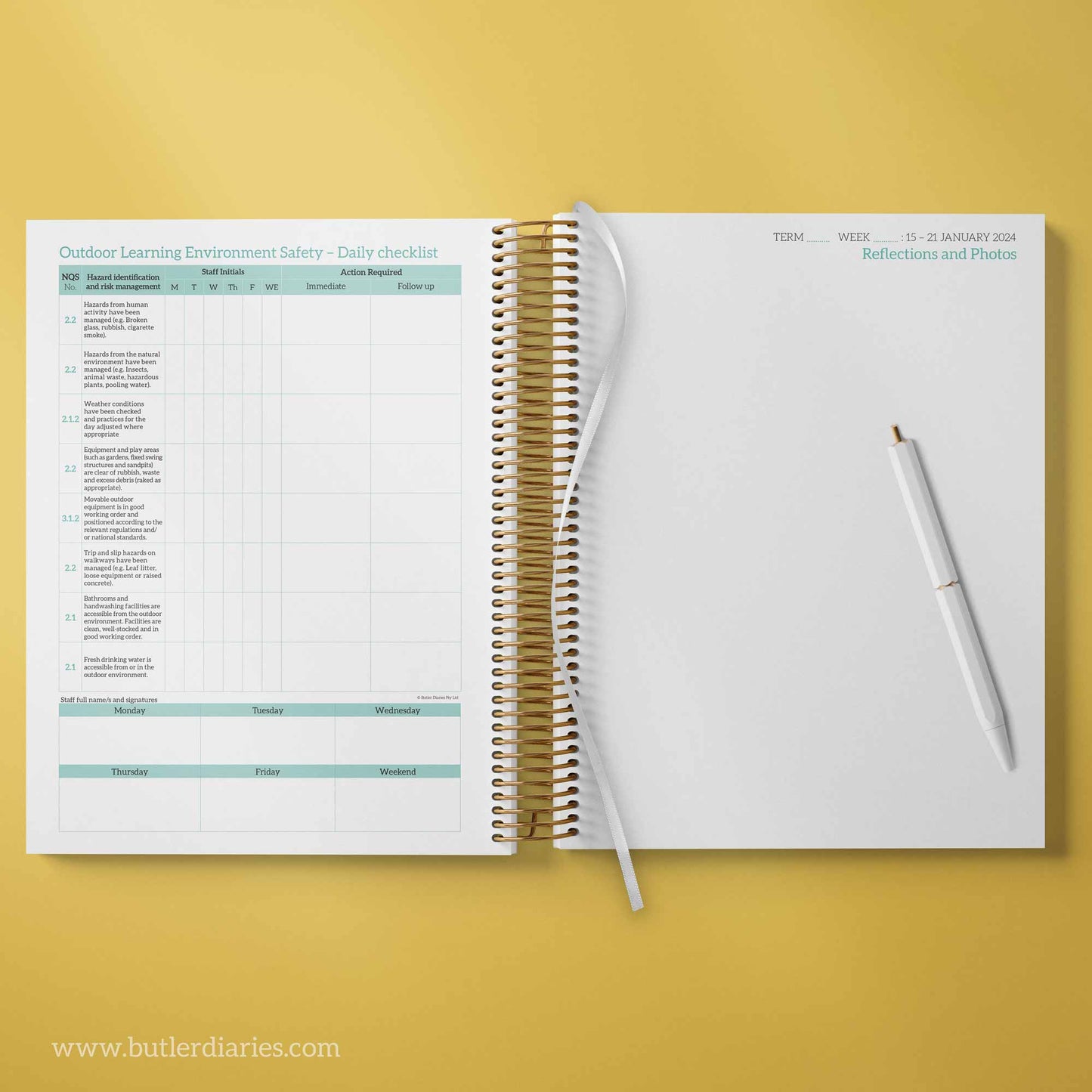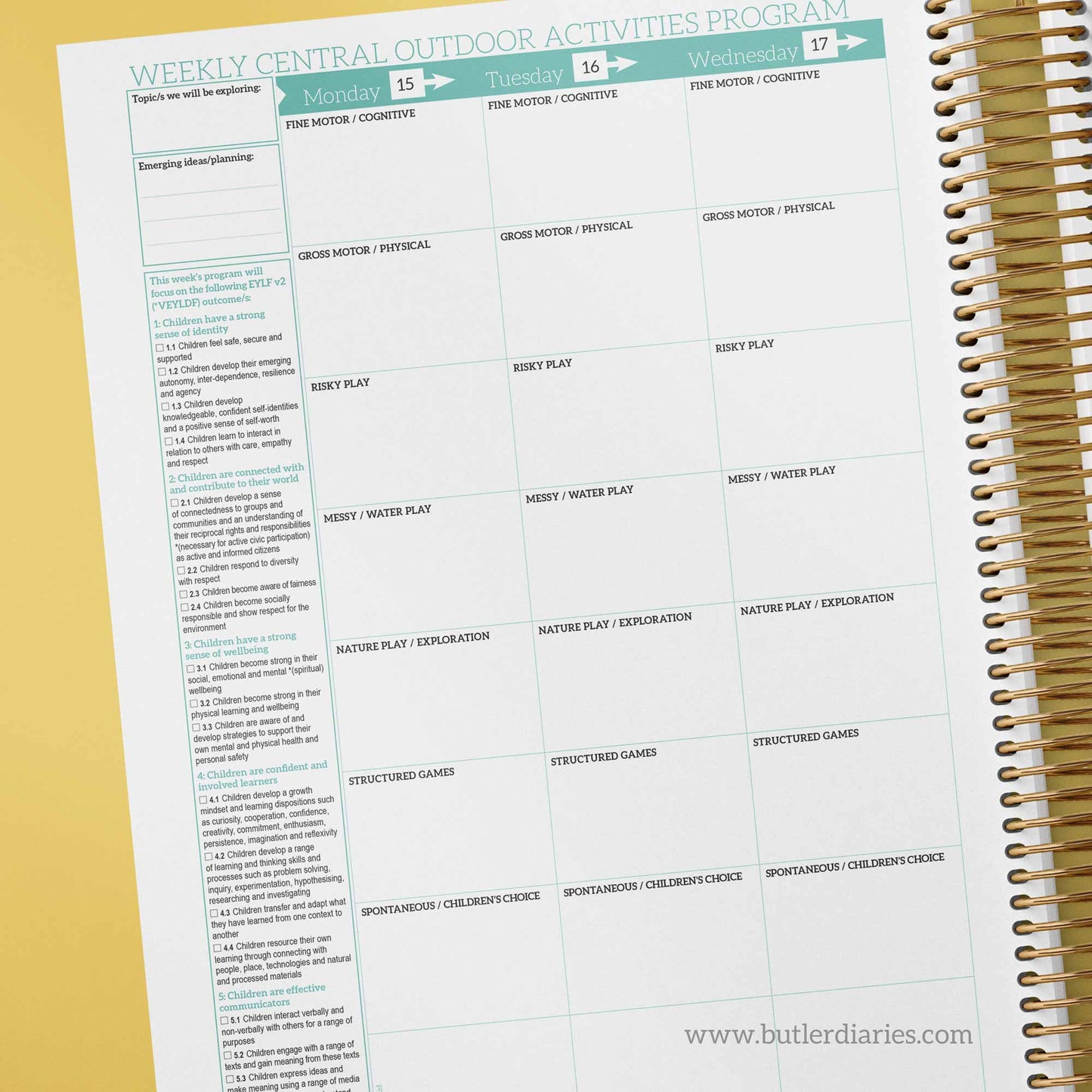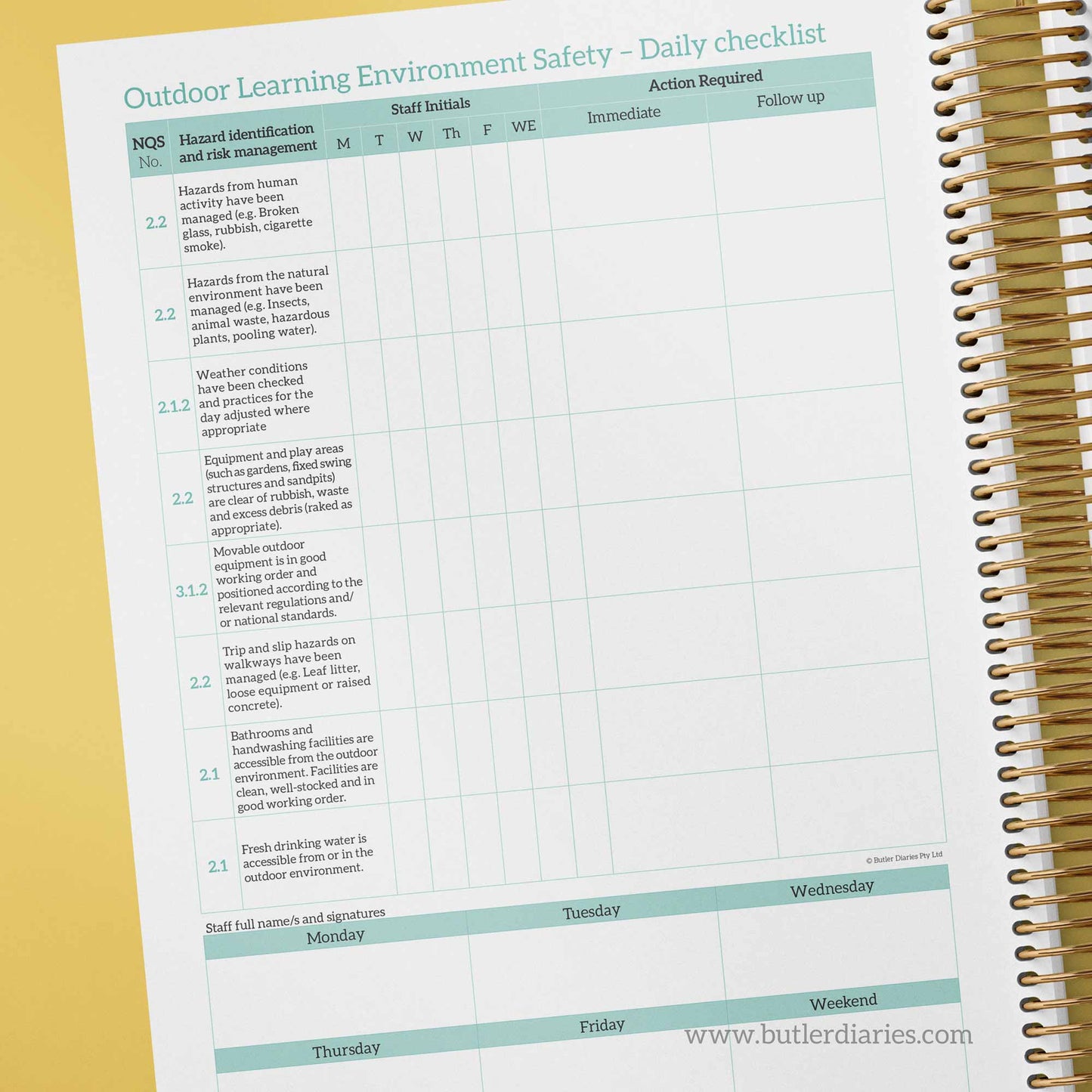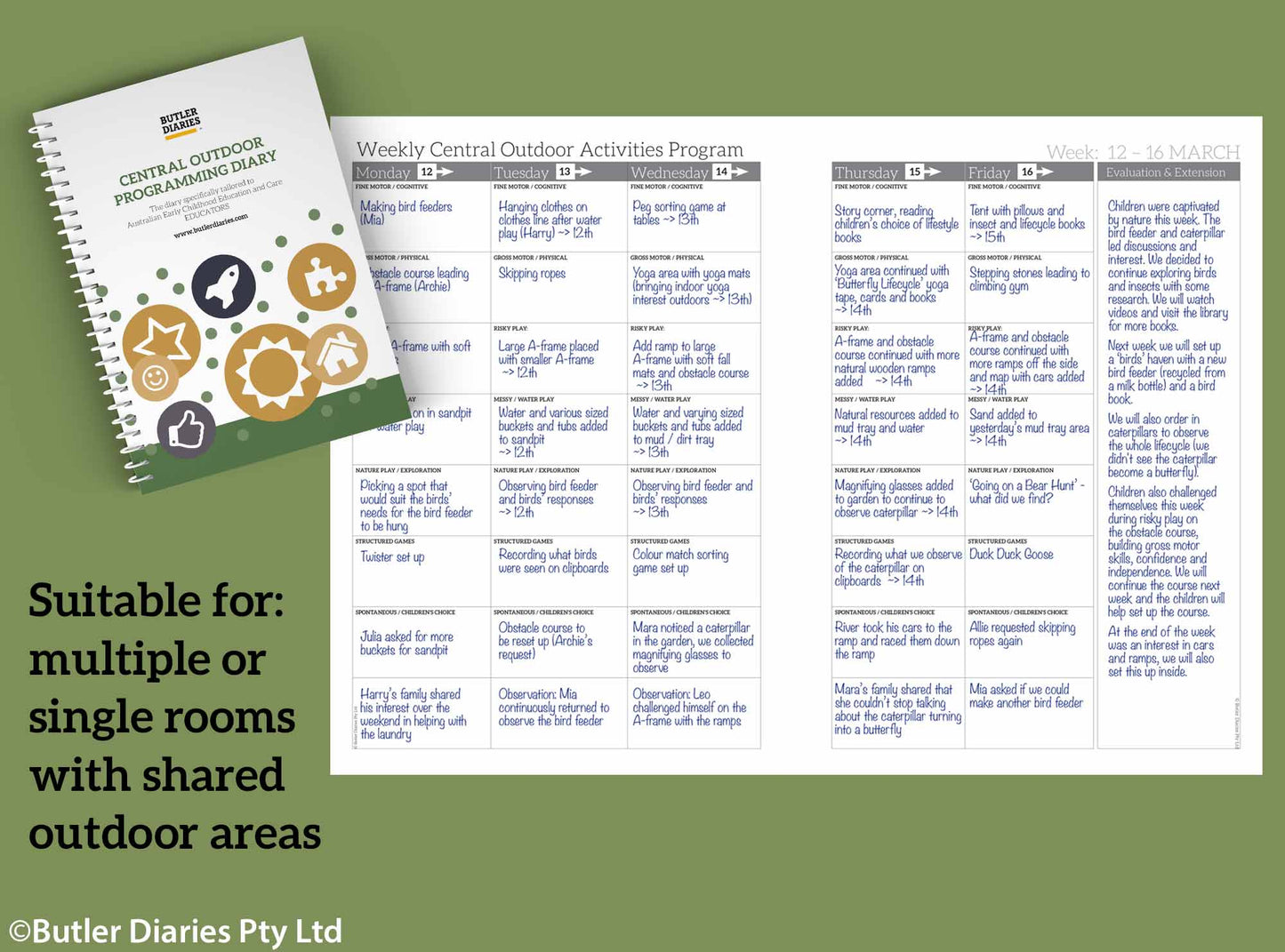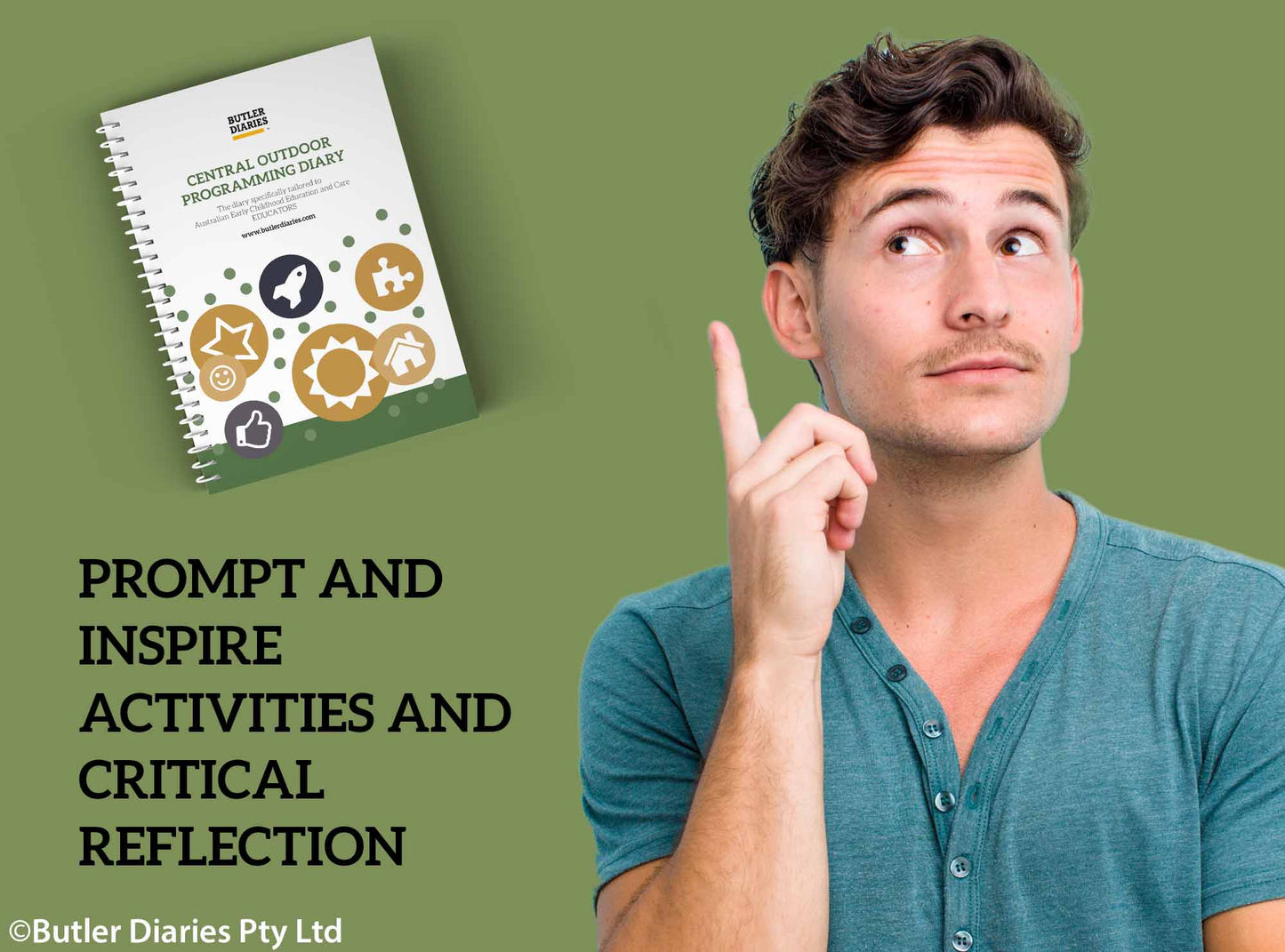 Shipping

Pre-order means it's at the printers and will be arriving soon (check note for estimated days). We generally process our in-stock orders within 24 hours and shipping is calculated at checkout (av. 2-3 days).

See Shipping Terms

Hassle-Free Returns

We will accept returns for any reason as long as the merchandise is in perfect resalable condition, in original packaging and the goods are returned within 60 days of purchase.

See Returns Form
Very helpful!
We are finding that the Outdoor Programming Book increases educator intentionality in programming for a variety of outdoor experiences and in observing children's choices in the outdoor environment and then intentionally following up on these for a more holistic practice.
Thank you Leonie! We are so glad our Central Outdoor Weekly Programming and Reflection Diary is supporting you in developing a holistic program for children. Great to see the pictures of your Diary in use too! Thank you again for a wonderful review!