Skip to product information
2024 OSHC Weekly Programming & Reflection Diary - Hard Cover Spiral Bound
Best Selling MTOP Educator's Diary
$41.00
Pre-order Now. Expected dispatch date: after 8th January 2023
Trusted Brand Used by 1000s

Flat $10.99 Domestic Shipping

Love it or
your money back

Free and Easy
Returns
Want to do better at assessment? This diary is an indispensable tool for programming and reflection referencing MTOP under the NQS.
Use this diary in conjunction with the Out Of School Hours Care Diary 2024
NEW Binding and Covers. Now offering the best of both worlds with a sturdy hard cover and robust gold spiral binding allowing easy opening and laying flat. Colour interior and a ribbon bookmark, now makes this the ultimate educator planner!
Grab the Programming and Reflection Printer Pack with your Weekly Programming and Reflection Diary for an Updated EYLF and MTOP V2.0 Learning Outcome Template for your programming spread and Print-Ready Photo Evidence Template for your reflection spread. The pack includes Sticker Paper, so it's as simple as peeling the back and sticking it in!
Oh, and yes, it includes MTOP V2.0! 
Looking for the 2023-2024 Financial Year Diary? 
Or the 2023 Diary? We have 6 Month versions available!
Download the Compliance eBook with Sample Pages
Reasons it's for you
Evidence against the NQS, regs and the law
Helps with Quality Improvement
Less paperwork, photocopying and filing
All in one place
Easy to use
Who is this diary for?
OSHC Room Leaders & Educators
Before School Hours Care, Out of School Hours Care and Vacation Care
Are you an Educational Leader? See our Educational Leader Diary 2023
The OSHC Weekly Programming and Reflection Diary:
Supports you in making decisions around the EYLF and MTOP Frameworks,
Considers Erikson, Piaget, Vygotsky, Gardner, Bronfenbrenner, and Montessori in its design,

Planning boxes prompt physical, social, emotional, cognitive, and language experiences, which are also linked to milestones and MTOP outcomes.
Links with the three exceeding themes; Embedded in Service Operations, Informed by Critical Reflection, and Shaped by Meaningful Engagement with Families and Community.
Applies the National Quality Standards, The OSHC Weekly Programming and Reflection Diary covers:

1.1.1 Approved Learning Framework
1.1.2 Child-centred
1.1.3 Program learning opportunities
1.2.1 Intentional teaching
1.2.2 Responsive teaching and scaffolding
1.2.3 Child directed learning
1.3.1 Assessment and planning cycle
1.3.2 Critical reflection
1.3.3 Information for families
2.2.3 Child protection
3.1.1 Fit for purpose
3.1.2 Upkeep
3.2.1 Inclusive environment
3.2.2 Resources support play-based learning
3.2.3 Environmentally responsible
4.2.1 Staffing arrangements
4.2.2 Professional standards
5.2.1 Collaborative learning
6.1.2 Parent views are respected
7.2.1 Continuous improvement
See our Compliance Information Factsheet (next tab) designed to support you in identifying, reflecting on, and documenting how your service operations and practices are linked to frameworks, NQS, theorists, developmental milestones, and exceeding themes.
Very impressed with it :)
"I love the simplicity of the diary that everyone can use and follow! It has all the important information such as MTOP outcomes, professional development summary, critical reflection space to write in and lots more."
Listen to a call with a 'Super Advocate'
Grab a cuppa and have a listen to a call with a raving fan. (13 min) Get some insights into how she has used our Weekly Programming and Reflection Diary in various ECEC settings and helped others use it to.
Recommended Products
Others have frequently bought these as well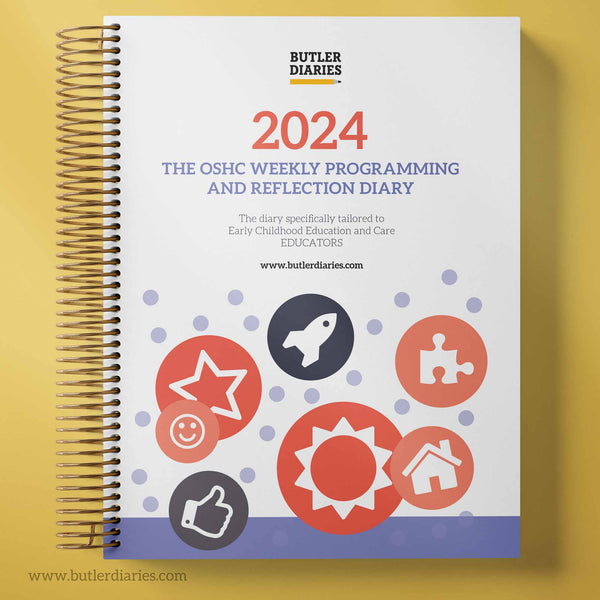 2024 OSHC Weekly Programming & Reflection Diary - Hard Cover Spiral Bound
$41.00
Recently Wishlisted
Add on optional description to this section
We are quite happy with this product. Thanks.
wondering what the A3 product has.
Thanks Mieke! We are so glad to hear you're happy! The A3 product is the same layout only it is A3 size instead of A4.
Great service. Quick delivery.
Hi Helen, thank you so much for your review. Our service is very important to us so your kind words have just made our day!
Thank you for the wonder product which helps our educators so much and covers all areas.
Also thank you for your fantastic service well done.
Hi Susan, thank you for your review! We are happy to hear you and your educators are supported by Butler Diaries' resources and our team.
Your Weekly Programming and Reflection Diary for OSHC suits me for use with my program. I have been using these books for few years now. They are easy to use and have been ok when Assessment & Ratings have occurred.
Hi Cheryl, thank you for your review! We love working with educators like you every year. We are now introducing Compliance Information in a handy downloadable document on our product pages that can help you provide further evidence for Assessment and Ratings if you would be interested in having in a look.