Skip to product information
2024 OSHC Diary - Hard Cover Spiral Bound
Simplifying Compliance for OSHC Services
$41.00
Pre-order Now. Expected dispatch date: after 8th January 2024
Trusted Brand Used by 1000s

Flat $10.99 Domestic Shipping

Love it or your money back

Free and Easy Returns
Introducing our enhanced OSHC Diary designed specifically to cater to the unique needs of OSHC educators and directors, aligning with the latest version 2.0 of the Early Years Learning Framework (EYLF), "My Time Our Place." This diary will empower you to excel in compliance within the Out of School Hours Care field for 2024.
We understand the importance of having ample space to document the responsible persons on duty, and that's why we have introduced a new format that provides more room and greater flexibility. This enhancement ensures that you can easily keep track of staff responsibilities and maintain compliance effortlessly.
Experience the best of both worlds with our NEW Binding and Covers. Our diary now boasts a sturdy hard cover and robust gold spiral binding, allowing for effortless opening and laying flat on any surface. Additionally, the colour interior and ribbon bookmark make this the ultimate early childhood OSHC planner, providing both durability and practicality.
These diaries have become an indispensable tool for OSHC educators and directors, aiding in record-keeping and effective planning to ensure compliance with the National Quality Standard (NQS). As a commitment to our customers, Butler Diaries updates these diaries annually, ensuring that you stay up-to-date with the evolving standards required of a quality industry operator.
Invest in our enhanced diary, tailor-made for OSHC professionals, and elevate your ability to meet and exceed industry standards while efficiently managing your daily operations. Maximise your potential for success and stay ahead of the compliance curve with our meticulously crafted diary.
This is the perfect choice for any OSHC Director or Admin person, and is designed as a companion with the Weekly Programming and Reflection Diaries.
Download the Compliance eBook with Sample Pages
Great books!
"Have been using them for more than six years and was a very important contributor in our last A&R."
Recommended Products
Others have frequently bought these as well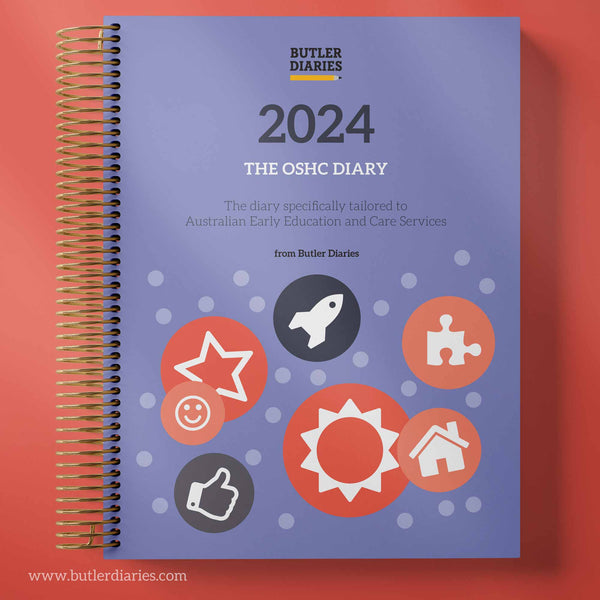 2024 OSHC Diary - Hard Cover Spiral Bound
$41.00
Recently Wishlisted
Add on optional description to this section
Love this and great for organising
2023 OOSH Diary
As a first time OOSH Educator (Service Leader) I am really excited about using the diary as a hard copy (old school) Educator. It appears to have everything I am going to need.
Thank you for the kind review Belinda. We can't wait to hear what you think once you are in full swing this year!
Excellent and Useful
We have found this very useful and have already ordered and received our new OSHC diary for next year. It is super helpful and has reduced a lot of paperwork that we used to use. Saves time and the environment having all our notes in one place too. Love it. We are also expanding next year to use the educational leader diary and the programming and reflection diaries.
Hi Michelle, thank you for such a lovely review! We are so glad that the OSHC Diary is supporting you in reducing your paperwork load. We can't wait to hear what you think about the Educational Leader Diary and Weekly Programming and Reflection Diaries!
hi Leonie i have been meaning to contact you, some of the pages are different. i will send you a copy tomorrow when i am back at work to show you
julie
Hi Julie, thank you for your review. I am so sorry to hear you have an issue with your diary. On very rare occasions there can be an issue with the printer jamming from the supplier. We would love to help you, please get in touch at info@butlerdiaries.com.
Looking forwards to using our new diary next year
Hi Patricia, thank you for your kind review. We look forward to hearing about how the diary works with your service.