Skip to product information
Sleep and Rest Check Log Book
For New Regs
Regular price $27.00 Sale price $17.00 Save 37%
On special for a short time!
Trusted Brand Used by 1000s

Flat $10.99 Domestic Shipping

Love it or your money back

Free and Easy Returns
Ensuring Safe Sleep in Early Childhood Education and Care Settings

Designed to be an essential tool for early childhood educators, the Butler Diaries Sleep and Rest Check Log Book streamlines the process of monitoring and documenting children's sleep in accordance with the Education and Care Services National Regulations.
Features:
Ten Columns for Ten Children: The layout allows for educators to note every 10-minute interval, tracking sleep and rest for up to 10 children simultaneously.

100 Pages: With 100 pages, this book provides a durable, long-lasting solution for tracking sleep checks in your educational setting. Designed for easy filing.

Guided Compliance: Positioned at the bottom of each page, a statement serves as both a reminder and a declaration. By initialing at every check, educators confirm that a physical and visual inspection has been conducted, ensuring that all criteria for safe sleep practices are met.
A Commitment to Best Practices:
This product aligns with guidelines by Red Nose Australia and adheres to quality practices set forth by the National Quality Standard. It aids in fulfilling educators' roles effectively, ensuring that each child's sleep and rest are safely managed and diligently recorded.
Responsibility Captured:
The bottom statement ensures educators note any significant departure from safe sleep practices. If any risks are observed, the situation must be described, actions taken, and outcomes noted. This diligent feature enables immediate risk assessment and potential incident reporting.
"By signing (initialing) this form at every check, you are acknowledging that you have physically and visually checked on the infant and have made sure that there is no departure from safe sleep practices. ie. noting recommended: sleeping position, skin and lip colour, breathing, body temperature, head position, airway and head and face – ensuring they remain uncovered. If there is a significant departure it must be noted and referenced Nx and written below, with how the situation was dealt with and what the outcome was. If there is a serious or frequent departure from safe sleeping practices a new Risk Assessment may be necessary and/or an Incident Report submitted."
Alignment with National Standards:
Your commitment to high standards is mirrored in this log book, where regulatory obligations and best practices find a seamless blend.
Convenience Meets Compliance:
The Butler Diaries Sleep and Rest Check Log Book not only meets regulatory requirements but also serves as a valuable tool for continual reflection and improvement in your policies and procedures for managing sleep and rest for children.
So simple and easy to use
"We love using this simple documentation method. It can then be filed away for reference and compliance."
Recommended Products
Others have frequently bought these as well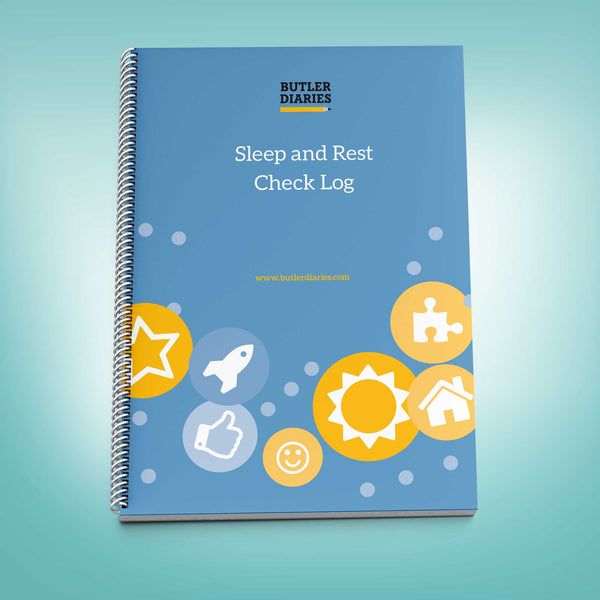 Sleep and Rest Check Log Book
Regular price $27.00 Sale price $17.00
Recently Wishlisted
Add on optional description to this section