Skip to product information
Baby Animal Posters - EYLF Learning Outcomes A4
New EYLF 2.0
Regular price $ 39.95 Sale price $ 29.95 Save 25%
On sale for a limited time
Trusted Brand Used by 1000s

Flat $10.99 Domestic Shipping

Love it or your money back

Free and Easy Returns
The complete set of 20 V2.0 EYLF learning outcomes displayed on glossy A4 posters using baby animals to demonstrate the concepts. We know children are not animals but we use these examples to demonstrate parallels in all young learners.  
These posters also serve as learning tools to promote conversations with children around the baby animals, their country of origin, their parenting styles, the similarities and differences between humans and other species.
WHAT IS THIS ANIMAL?
DO YOU KNOW WHAT COUNTRY IT COMES FROM?
WHAT IS THIS ANIMAL DOING IN THIS PICTURE?
DOES THIS ANIMAL HAVE FUR OR FEATHERS?
WHAT NOISE DOES THIS ANIMAL MAKE?
DOES THIS ANIMAL LAY EGGS?
DOES THIS ANIMAL LIKE BEING IN THE WATER?
CAN YOU COUNT THE ANIMALS?
WHAT COLOUR IS THE ANIMAL?
HOW BIG WILL THE ANIMAL BE WHEN IT GROWS UP?
CAN PUPPIES REALLY READ?
Recommended Products
Others have frequently bought these as well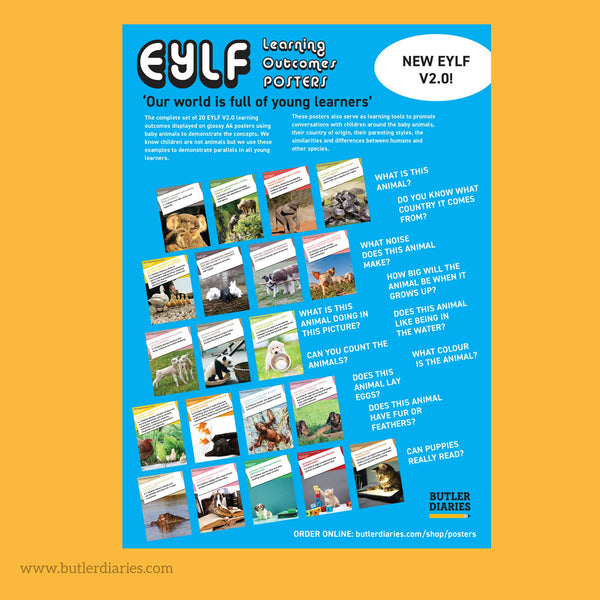 Baby Animal Posters - EYLF Learning Outcomes A4
Regular price $ 39.95 Sale price $ 29.95
Recently Wishlisted
Add on optional description to this section