Skip to product information
2023 FDC Compliance Checklist Diary
Regular price $ 46.95 Sale price $ 19.99 Save 57%
On sale for a limited time
Trusted Brand Used by 1000s

Flat $10.99 Domestic Shipping

Love it or your money back

Free and Easy Returns
Make sure you are compliant every day for Family Day Care in 2023. Run your business as a professional.
NEW LAYOUT!  With cleanliness and infection control more important than ever, we have included a cleaning checklist to accompany our required checklists for your Family Day Care service.
We also still have the old layout (same as 2022 if you prefer that).
The Family Day Care Compliance Checklist Diary has all of the checklists and charts you need in one handy place. This diary was developed to be used in conjunction with the Family Day Care Compliance carbon copy books and the Weekly Programming and Reflection Diaries. 
Can be used by New Zealand Educators.
Reasons it's for you
Evidence against the NQS, regs and the law
Helps with Quality Improvement
Less paperwork, photocopying and filing
All in one place
Easy to use
Who is this diary for?
Family Day Care Educators
The Family Day Care Compliance Checklist Diary:
Supports you in making decisions around the EYLF Frameworks,
Considers Vygotsky, Montessori, Piaget, and Dewey in its design,
Prompts you in providing environments that encourage physical, social, emotional, cognitive, and language development,
Links with the three exceeding themes; Embedded in Service Operations, Informed by Critical Reflection, and Shaped by Meaningful Engagement with Families and Community.
Applies the National Quality Standards, The Family Day Care Compliance Checklist Diary Covers:

2.1 Health
2.1.1 Wellbeing and comfort
2.1.2 Health practices and procedures
2.1.3 Healthy lifestyle
2.2.1 Wellbeing and comfort
2.2.2 Incident and emergency management
2.2.3 Child protection
3.1.1 Fit for purpose
3.1.2 Upkeep
3.2.3 Environmentally responsible
4.2.2 Professional standards
5.1.2 Dignity and rights of the child
6.2.3 Community engagement
7.1.2 Management systems
7.1.3 Roles and responsibilities
7.2.1 Continuous improvement
See our Compliance Information Factsheet (next tab) designed to support you in identifying, reflecting on, and documenting how your service operations and practices are linked to frameworks, NQS, theorists, developmental milestones, and exceeding themes.
Recommended Products
Others have frequently bought these as well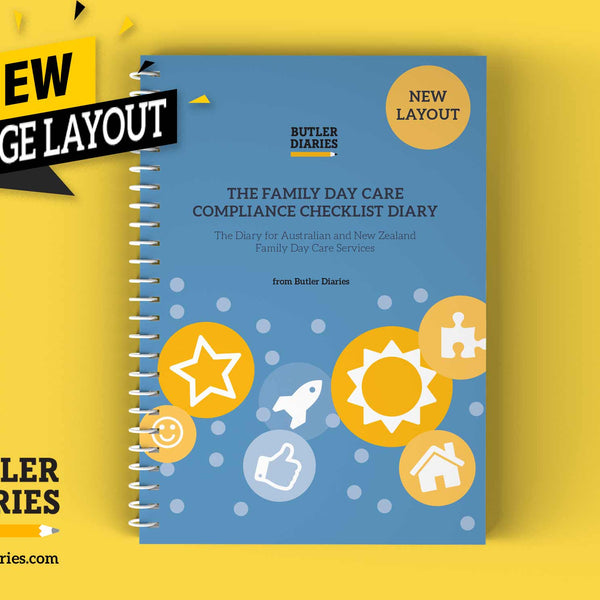 2023 FDC Compliance Checklist Diary
Regular price $ 46.95 Sale price $ 19.99
Recently Wishlisted
Add on optional description to this section