Skip to product information
Can you guess? Animal shape recognition flashcard deck
$23.00
Trusted Brand Used by 1000s

Flat $10.99 Domestic Shipping

Love it or your money back

Free and Easy Returns
Welcome to the 'Can you guess? Animal shape recognition flashcard deck', an educational resource that helps children recognise animals by guessing what they are from beautifully rendered watercolour shapes.
Ask the children 'can you guess?' Then after they have interacted, flip the card to reveal gorgeously photographed animals along with their name. Not only will it introduce the animal names and spelling to the children but will encourage discussion about their habitat, species and character. This deck is suitable for all ages and can be used any way you like.
This deck contains one intro card, and 36 animal cards.
Link to the EYLF learning outcomes for your activity.
L/O 2
Children are connected with and contribute to their  world
2.1 Children develop a sense of belonging to groups and communities and an understanding of the reciprocal rights and responsibilities necessary for active community participation
2.4
Children become socially responsible and show respect for the environment.
L/O 4
Children are confident and involved learners
4.1 Children develop dispositions such as curiosity, cooperation, confidence, creativity, commitment, enthusiasm, persistence, imagination and reflexivity
4.2 Children use a range of skills and processes such as problem solving, inquiry, experimentation, hypothesising, researching and investigating
4.3 Children transfer and adapt what they have learned from one context to another
4.4 Children resource their own learning through connecting with people, place, technologies and natural and processed materials
L/O 5 Children are effective communicators
5.1 Children interact verbally and non-verbally with others for a range of purposes
5.2 Children engage with a range of texts and gain meaning from these texts
5.3 Children collaborate with others, express ideas and make meaning using a range of media and communication technologies
Recommended Products
Others have frequently bought these as well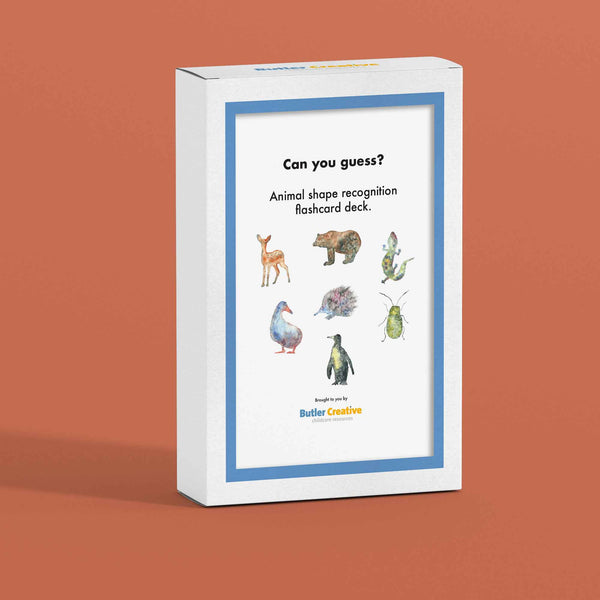 Can you guess? Animal shape recognition flashcard deck
$23.00
Recently Wishlisted
Add on optional description to this section