Skip to product information
2024 Educational Leader Diary - Hard Cover Spiral Bound
Supports Educational Leaders in their Role
$41.00
Pre-order Now. Expected dispatch date: after 8th January 2024
Trusted Brand Used by 1000s

Flat $10.99 Domestic Shipping

Love it or your money back

Free and Easy Returns
Introducing the 2024 Educational Leader Diary.
Are you passionate about early childhood education? Whether you have an early childhood education degree or are just beginning your journey in this field, our Educational Leader Diary is perfect for you!
Designed to support effective practices in early childhood education, this diary is your go-to tool for maintaining records and planning for compliance. Developed with the help of expert educators, we understand the beginning essentials in early childhood education and have created a diary that meets your needs.
One of the many benefits of this diary is its user-friendly layout. Record educators' programming and curriculum for individual rooms, align them with your service philosophy and procedures, and monitor their progress. This diary provides a streamlined way to document your team's accomplishments and offer them the necessary support they need to excel.
Make the most out of this diary by using it alongside our Weekly Programming and Reflection Diaries. Combined, these resources empower educational leaders, making it easy to stay organised and focused. By using our diary, you can ensure that you are delivering the best possible learning experiences for children.
But that's not all! Our 2024 Educational Leader Diary comes with great features to enhance your experience. The new binding and covers mean that you can rely on its durability through everyday use. The sturdy hard cover and robust gold spiral binding allow for easy opening and laying flat, making it convenient for daily use. With a vibrant colour interior and a handy ribbon bookmark, this diary is not only practical but also visually appealing.
Join the educational leaders who have already discovered the benefits of our diary. Download our Compliance eBook with Sample Pages now to get an exclusive sneak peek into what our diary has to offer.
Get organised, stay focused, and enhance your role as an educational leader with our 2024 Educational Leader Diary. Start creating a memorable and effective learning environment today!
These diaries help in so many ways!
"I use this diary in conjunction with the Weekly program and reflection diary. Both are excellent for covering all aspects of program and EL, particularly during A&R. Our assessor was able to review much of my work via the diaries."
Recommended Products
Others have frequently bought these as well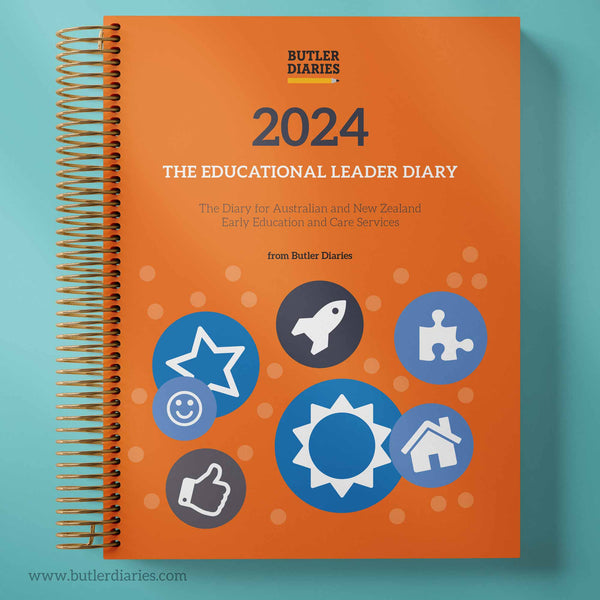 2024 Educational Leader Diary - Hard Cover Spiral Bound
$41.00
Recently Wishlisted
Add on optional description to this section
Educational Leader Diary
I love this diary. I bought the July/December 2023 diary this year. It is easy to use, keeps all of my conversations with educators in one place.
Leanne
Thanks for the feedback Leanne! Great to hear you are loving the Educational Leader Diary!
We have used Butler Diaries for many years and have found them to contain sufficient information to form a basis for our Programming cycle for Assessment and Rating, they are also used to reflect the progress in the rooms over the years. We have kept all our diaries and it is nice to look back. We are excited to trial the Educational Leader diary this year as I am now handing that role to one of my senior staff, it should assist in his process.
Thanks so much Betty, so glad to hear our Diaries have supported you with Assessment and Rating. Can't wait to hear how the Educational Leader Diary supported your staff member.
Great diaries for early childhood professionals
Fast delivery and a great product.