Skip to product information
2024 The Tradie Diary - Leather Hard Cover Spiral Bound
Soft Cover Version Coming Soon
$41.00
Trusted Brand Used by 1000s

Flat $10.99 Domestic Shipping

Love it or your money back

Free and Easy Returns
We have sold out of the leather look hard covers, but we have some soft cover spirals coming soon! PRE-ORDER HERE.
Meet the best tool in The Tradie toolbox, The Tradie Diary for All Trades!
All the Tradie Diaries have now merged to become 'The Tradie Diary,' suitable for all Trades. We have brought together all the best tools from each Diary to create the ultimate Tradie Tool.
NEW Binding and Covers. Now offering the best of both worlds with a sturdy hard cover A4 Size with wipeable PU Leather and robust gold spiral binding and re-enforced gold corners allowing easy opening and laying flat. Colour interior and a ribbon bookmark, now makes this the ultimate tradie planner! Makes a great gift!
Are you a Tradie that likes:
cost-effective solutions to flexible record-keeping?
staying organised even without reception?
showing off your professionalism and quality standard?
protecting your Tradie Business from unwanted claims and disputes?
If you answered yes to any of these, then The Tradie Diary is for you!

The Tradie Diary Benefits
A4, 1 day to a page and designed with everything you need as an Australian and New Zealand Tradie:
Jobs Today,

Prestart,
Day Log,
Photo and Vehicle Log,
Communication Record,
Staff and Subbie Record, and
Material and Delivery Record.
All paperwork in one place
Easy reference to client addresses and numbers for the day
Helps to record tasks that you complete throughout your busy day

Save money on subscriptions and keep hard copy records
Keep track of variations and client communication

Helps with coordination of subbies and deliveries
Allows for easier preparation of reports by referring to your entries
Keeps track of vehicle readings and expenses for tax purposes
Make notes for quote preparation
Suitable for all trades and supervisors, including:
Site Supervisors
Builders
Apprentices
Tilers
Plasterers
Brickies
Floorer
Scaffolder
Fencer
Painter
Rigger
Helps to keep a record of your daily activities such as clocking in and clocking out times
Can be used to record RDOs, sick days, absences, lunch time and other breaks
Record when and who gives you a task or to whom you give a task
Keeps daily records in case of WorkCover claims

Staff and subcontractors on site for the day

Site conditions for the day
Safety PPE considerations and prestart
WH&S record to protect your business
Records evidence in the case of legal proceedings or disputes

Provides a hard copy in your own handwriting (important for disputes)
Absolutely love the diary.
"Helps me plan my jobs easily and efficiently, I prefer a written diary over an app just because I can easily read and adjust things if needed."
Recommended Products
Others have frequently bought these as well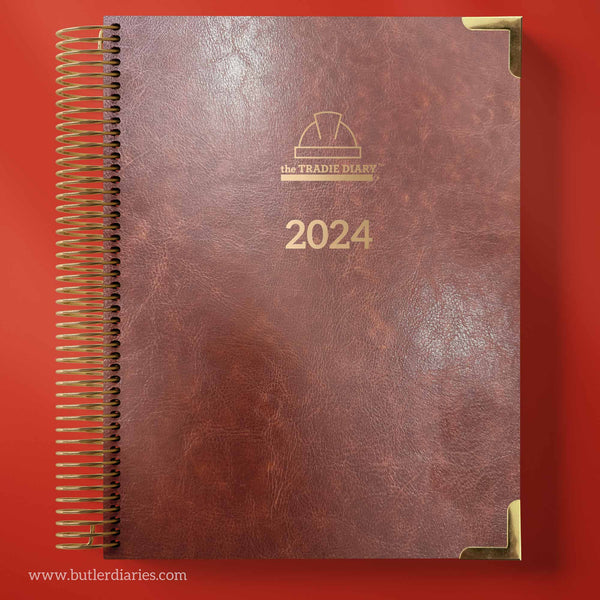 2024 The Tradie Diary - Leather Hard Cover Spiral Bound
$41.00
Recently Wishlisted
Add on optional description to this section
It's a great book , full on space , all in the right areas , had the 2023 one .
This hard back one will be great ,as I am overseas I will add local holiday's,
As a lift engineer the sections on each page are ideal.
Also I like the little storage pagevatvthe rear.
Great diary, Strongly recommend it .
Thank you so much Phil, we hope you have a wonderful year of planning ahead with your Tradie Diary :)
Northside Building
I have been a builder for over 43 years and these Butler diaries are the best I have used by miles. The ability to complete and record daily tasks is as brilliant. I wish I had discovered these beauties a long time ago.
Thanks so much Jeff, we are so happy to help!
Great
Great communication and great product.
Thank you so much Todd, your feedback means a lot to us!
It's great. All the info you need for booking and managing jobs multiple jobs and clients on a daily basis as a contractor or an employee.
Tradie diary
Another year another butler tradie diary, many more to come, simplifies my daily paperwork
Thank you so much Benjamin, we love having you as a customer!
Latest Articles
Christmas is just around the corner, and it's time to plan a something for your hardworking Aussie tradies. Whether you're a site supervisor, electrician, plumber, or any other trade professional, everyone deserves a ripper of a Christmas bash. Down under, we know how to have a good time, and this year's festivities should be no exception. So, put on your Santa hats and thongs, because we're about to dive into some fair dinkum Christmas party ideas that will make this holiday season a corker!

As the year draws to a close, it's essential for tradies to wrap up their businesses efficiently and effectively. This process not only ensures a smooth transition into the new year but also sets you up for success in the long run. Here are some top tips for tradies when winding up their business at the end of the year...

In the ever-evolving world of tradesmanship, staying ahead of the curve is essential to growing your business. While word-of-mouth referrals and traditional advertising still have their place, digital marketing has become an invaluable tool for Aussie tradies to connect with their target audience, build a strong online presence, and drive business growth. In this guide, we will explore the key strategies and principles of digital marketing tailored to the unique needs of Australian tradesmen.