Skip to product information
The Great Aussie Tradie Nickname Compendium: Exploring the Banter Behind the Build
BRAND NEW!
Regular price $17.00 Sale price $11.00 Save 35%
Trusted Brand Used by 1000s

Flat $10.99 Domestic Shipping

Love it or your money back

Free and Easy Returns
Embark on a delightful journey through the uniquely Australian landscape of tradie nicknames. "The Great Aussie Tradie Nickname Compendium" serves as an engaging resource that lifts the lid on the camaraderie and wit that keep our tradespeople not just interconnected, but thoroughly entertained.
While working in the fields of construction, electrical services, or plumbing demands dedication and skill, it's the informal nicknames—those quirky, offbeat tags—that truly bring Chippies, Sparkies, Brickies and more together.
"The Great Aussie Tradie Nickname Compendium" is not merely a collection of names; it's a tribute to the men and women who make up the backbone of Australia's workforce.
Settle in for a read that is as informative as it is entertaining, and discover the world of nicknames that makes the Australian tradie community truly one-of-a-kind.
5in x 8in 32 Pages Paperback
Recommended Products
Others have frequently bought these as well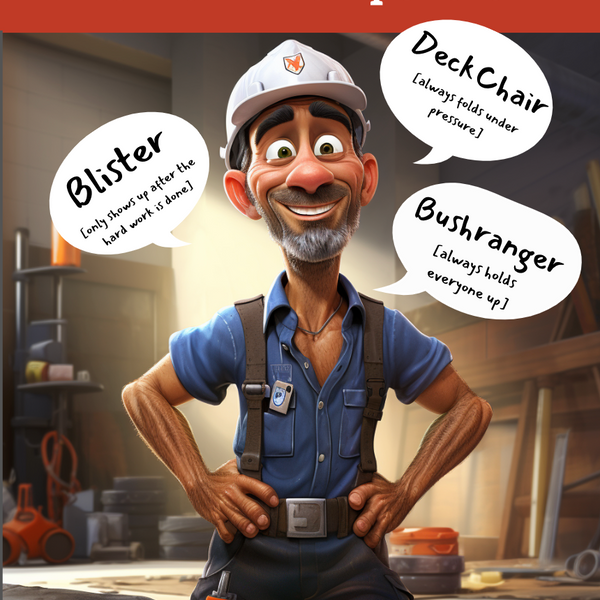 The Great Aussie Tradie Nickname Compendium: Exploring the Banter Behind the Build
Regular price $17.00 Sale price $11.00
Recently Wishlisted
Add on optional description to this section
Diary looks great so far, it all looks to be high quality. The only nit pick I have is, a few more blank pages for notes wouldn't go astray.
Thanks for the feedback Stephen, something to keep in mind for 2025!
Latest Articles
Christmas is just around the corner, and it's time to plan a something for your hardworking Aussie tradies. Whether you're a site supervisor, electrician, plumber, or any other trade professional, everyone deserves a ripper of a Christmas bash. Down under, we know how to have a good time, and this year's festivities should be no exception. So, put on your Santa hats and thongs, because we're about to dive into some fair dinkum Christmas party ideas that will make this holiday season a corker!

As the year draws to a close, it's essential for tradies to wrap up their businesses efficiently and effectively. This process not only ensures a smooth transition into the new year but also sets you up for success in the long run. Here are some top tips for tradies when winding up their business at the end of the year...

In the ever-evolving world of tradesmanship, staying ahead of the curve is essential to growing your business. While word-of-mouth referrals and traditional advertising still have their place, digital marketing has become an invaluable tool for Aussie tradies to connect with their target audience, build a strong online presence, and drive business growth. In this guide, we will explore the key strategies and principles of digital marketing tailored to the unique needs of Australian tradesmen.