Skip to product information
2024 Our Culturally Responsive Year Wall Calendar
Supports with Implementing V2.0 Themes
$21.00
Pre-order Now. Expected dispatch date: after 8th January 2024
Trusted Brand Used by 1000s

Flat $10.99 Domestic Shipping

Love it or your money back

Free and Easy Returns
How did we celebrate, honour and embed Aboriginal and Torres Strait Islander
ways of being, knowing and doing in all aspects of our early childhood education and care service?
Our Culturally Responsive Year is a monthly calendar designed to highlight the culturally competent and responsive practices carried out in the ECE Setting. 
It is a monthly reminder to actively involve children in cultural practices and activities as well as a record of the experiences for parents and assessors to view. Write stories, draw pictures, or stick in photos to document your month.
This Cultural Calendar prompts consideration in these areas with its six planning areas:
Language, music and dance is about embedding language and different forms of expression from Indigenous cultures into everyday conversations and experiences.

Art and craft value the visual arts and its importance in communicating and identity.
Stories and history embed Indigenous methods of learning and sharing their identity into your program and practice.
Cooking and food open children's experiences to include traditions beyond their household meal time experiences.
Outdoor fosters a connection with country and the importance of the environment across cultures.
Family and community builds a deeper cultural connection and relationship with your centre's community and family's cultural traditions and ways of being and is a key component of a 'built in' culturally responsive program
Finally, the Reflect and plan section maintains an ongoing cycle of planning.
Creating a culturally responsive service that has embedded Indigenous perspectives authentically is a key focus of the NQS and updated ALF (see compliance tab). 
It is a monthly prompt to reflect and record how you have "built in" cultural responsiveness into your program and practice rather than simply "bolting it on"*. Importantly, it steers away from the "tick a box" cultural planning that can often occur in services by prompting thoughtful consideration of environments and experiences with a visual planner.
Looking for the 2023 Calendar?
Download the Compliance eBook with Sample Pages
We love this concept for EYLF 2.0
"Its user-friendly design, comprehensive prompts, and emphasis on collaboration make it an excellent resource for documenting and celebrating our culturally responsive practices."
Recommended Products
Others have frequently bought these as well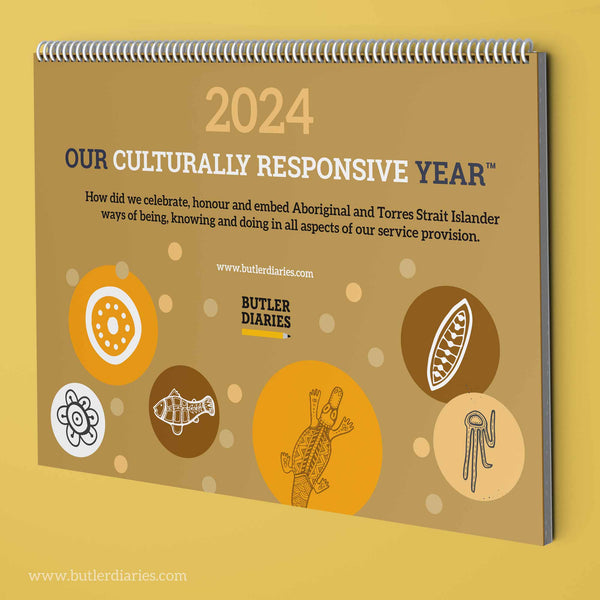 2024 Our Culturally Responsive Year Wall Calendar
$21.00
Recently Wishlisted
Add on optional description to this section