Skip to product information
Sustainable Educational Program Cards
Preorder for Term 4 Delivery
Regular price $27.00 Sale price $21.00 Save 22%
On sale for a limited time
Pre-order Now. Expected dispatch date: after 8th January 2024
Trusted Brand Used by 1000s

Flat $10.99 Domestic Shipping

Love it or your money back

Free and Easy Returns
Do you find it difficult to ensure you have the right balance of sustainable experiences in your program? You're not alone! With so much to include and endless paperwork, things can easily fall through the cracks. Many educators feel frustrated attempting to create a balanced program. But, with Sustainability being such a significant component of EYLF and MTOP, it is important it ensure it isn't under-represented in your program. 
Here is a great resource to inspire a creative, sustainable program suitable for children 3-12 years that will ALSO save you time and frustration!
We designed this pack of 43 cards to prompt and inspire you to create a sustainable program that will foster children's connection with their world. They provide inspiration for easy yet educational, sustainable learning experiences and practices you can implement today.
Each card points to a resource pack with instructions, tips, and extension ideas. Some include great templates, while others have step-by-step instructions. Simply use the QR Code in your pack to access the full library of resources. (Valued at $149.99)
These cards are broken up into the 7 Rs to support you in planning and implementing the experiences. These include:
Refuse

: Avoid unnecessary waste.

Reduce

: Minimise waste.

Reuse

: Utilise materials more than once.

Repair

: Fix instead of discard.

Recycle

: Repurpose materials.

Respect

: Foster respect for the environment.

Reflect

:

Think about the strong connections between children and the world around them.
There are also eight cards for Integrated Projects so you can expand your Sustainable Practices across your service as a whole and include it in your Quality Improvement Plan.
These cards work best when used with Our Sustainable Year Wall Calendar in which each R has its own space to record your experiences. The Calendar is designed to be completed alongside the children and act as a record of sustainable practice for families and assessors to view.
There are endless ways to use the cards in your service! Use the prompts to select an experience based on children's interests, or use a 'lucky dip' method to choose one at random and ask the children if they would like to try it.
Guarantee your program is addressing the Sustainability principle and learning outcome 2. Our experiences also draw in other learning outcomes, including fostering children's identity, their sense of wellbeing, active learning skills, and communication so you can also complete your Weekly Programming and Reflection Diary at the same time!
That's right, they are the perfect tool to save you time, inspire a creative program AND improve your service's sustainability practices.
43 Coated Cards 100mm x 70mm.
Beautiful drawings and clear explanations.
"I love the simplicity of this deck of cards designed to teach children yoga. I am doing my yoga teacher training so very interested in such teaching aids."
Recommended Products
Others have frequently bought these as well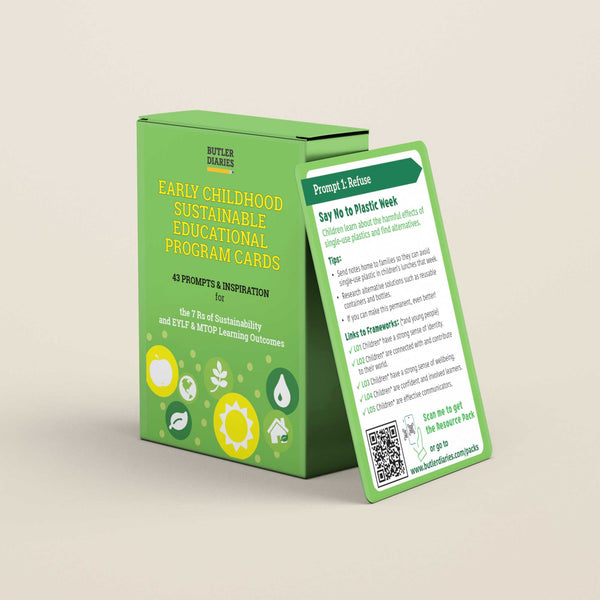 Sustainable Educational Program Cards
Regular price $27.00 Sale price $21.00
Recently Wishlisted
Add on optional description to this section