Regular price
$ 49.95
Sale price
$ 19.95
Unit price
per
Sale
Sold out
THIS DIARY IS MONDAY - SUNDAY (7 DAYS) STARTING 1 JANUARY 2023
Want to do better at assessment in 2023? This diary is an indispensable tool for programming and critical reflection referencing the EYLF and MTOP for compliance under the NQS. This is ideal for services that have both 1-5 year olds and 6-12 years in their care as it references both frameworks.
FOR ALL AUSTRALIAN STATES AND TERRITORIES. 
Simplify your workload with this all-inclusive diary that enables quick access to weekly and future programming utilising both notes and visuals. Lay out your documentation in a single place for assessors to view as evidence you are meeting and exceeding in all 7 Quality Areas.
Now also in A3! - More room to write!
Are you an Educational Leader? See our Educational Leader Diary
Use this diary in conjunction with the Office/Admin/Director Diaries 
Grab the Programming and Reflection Printer Pack with your Weekly Programming and Reflection Diary for an Updated EYLF and MTOP V2.0 Learning Outcome Template for your programming spread and Print-Ready Photo Evidence Template for your reflection spread. The pack includes Sticker Paper, so it's as simple as peeling the back and sticking it in!
Customisation

Do you have an idea for a diary or other product? We can look into that for you.
How about some custom designed covers for larger order? No problems at all!
See more here or Drop us a line
Share
View full details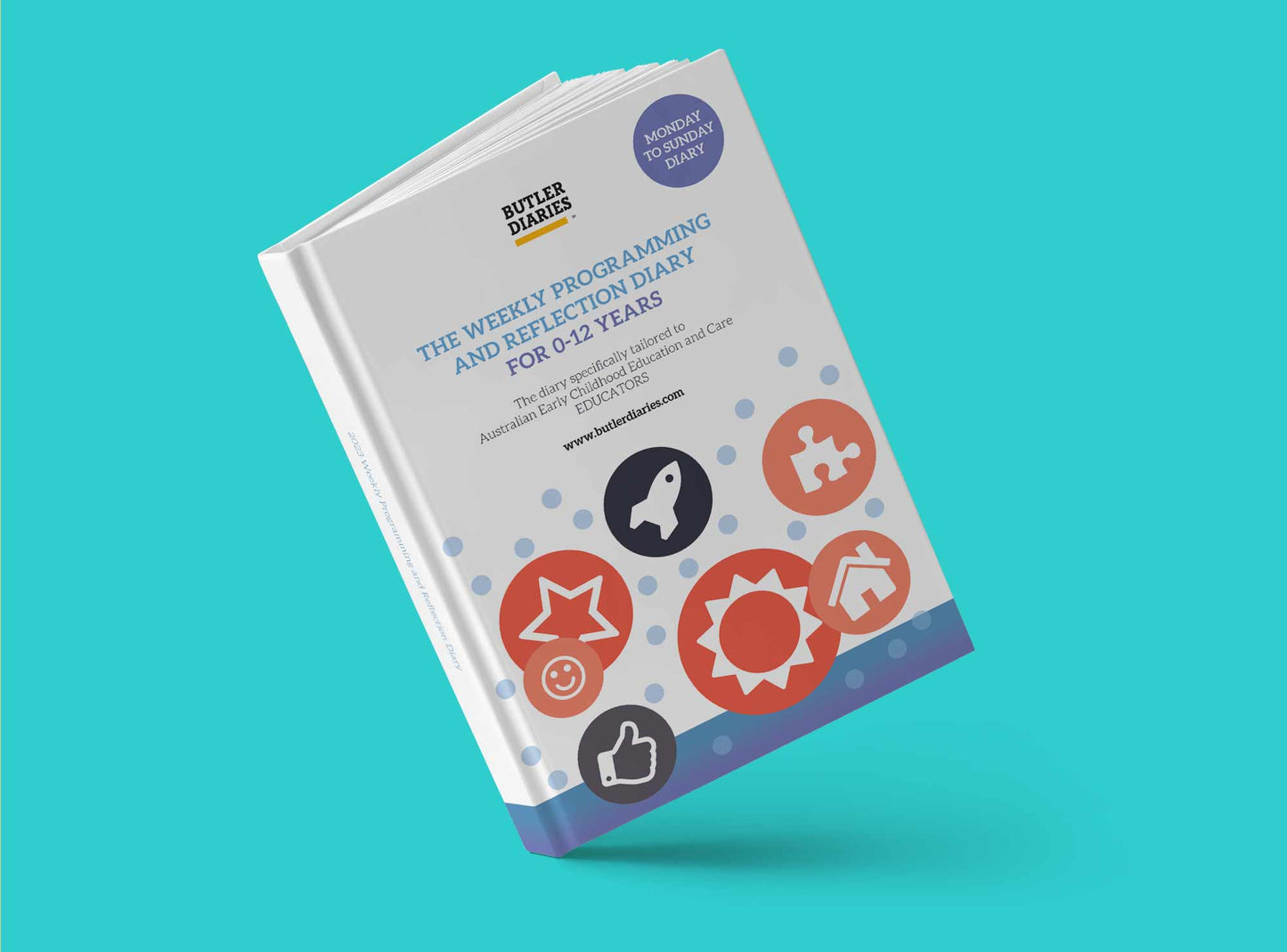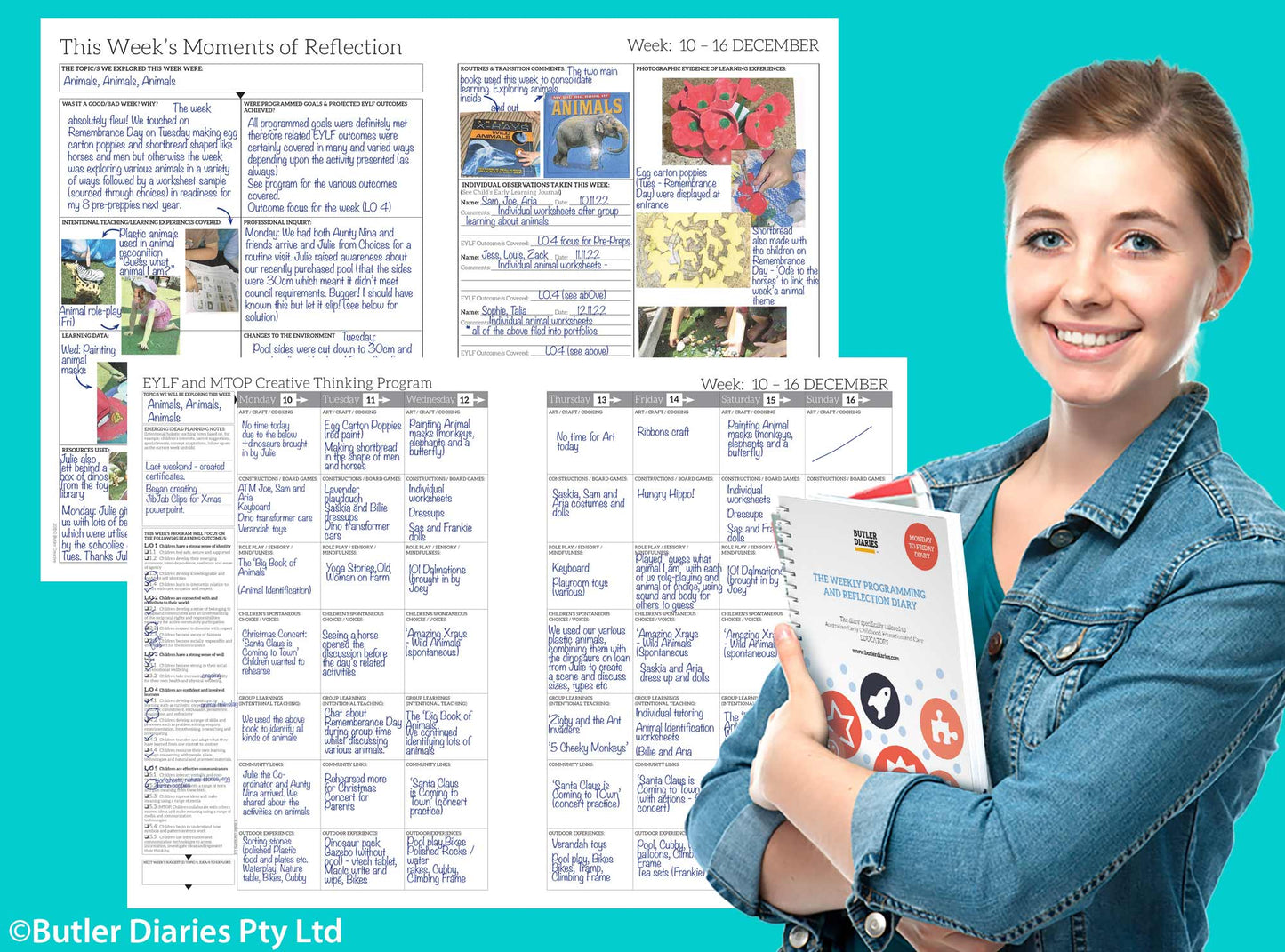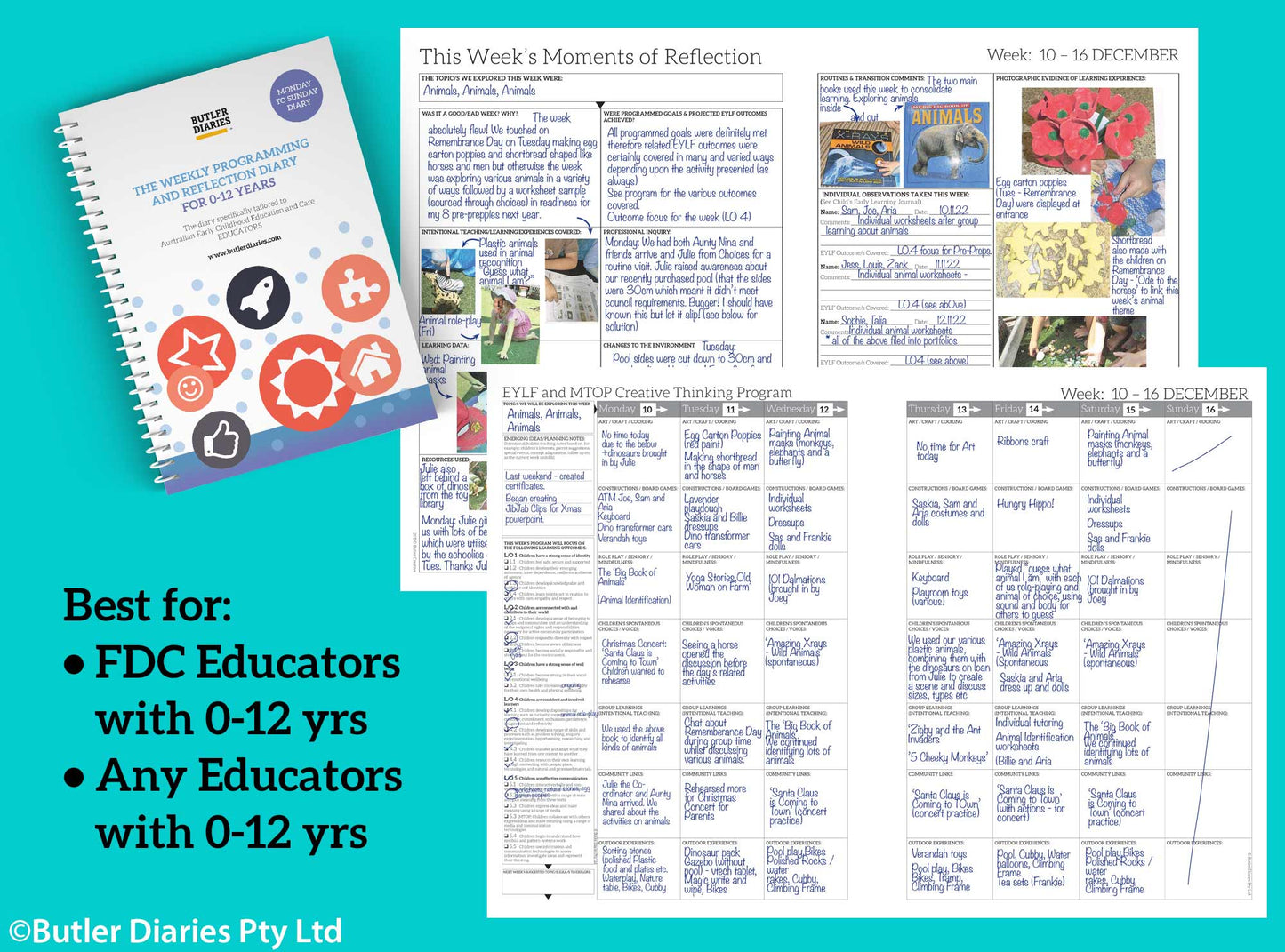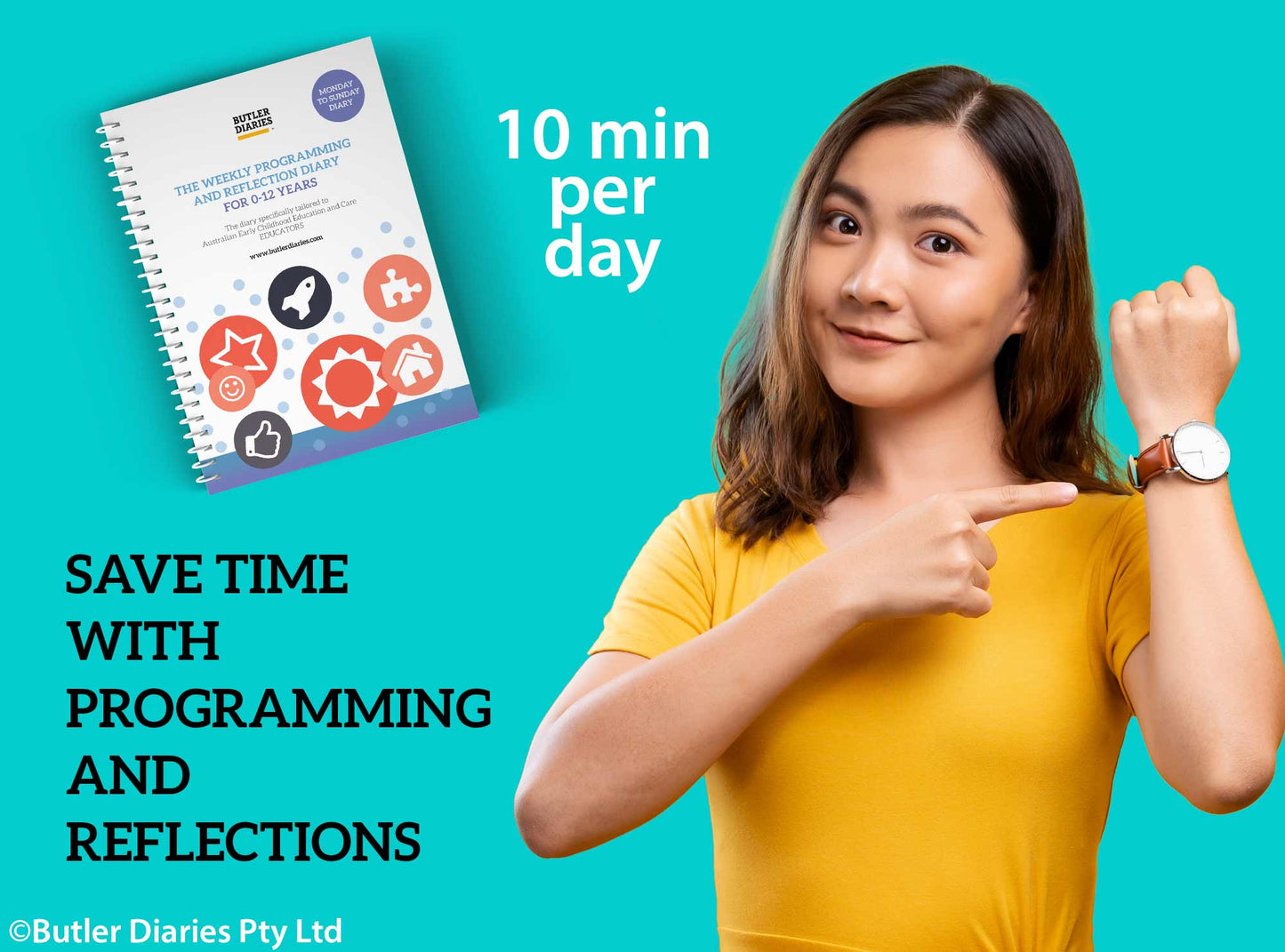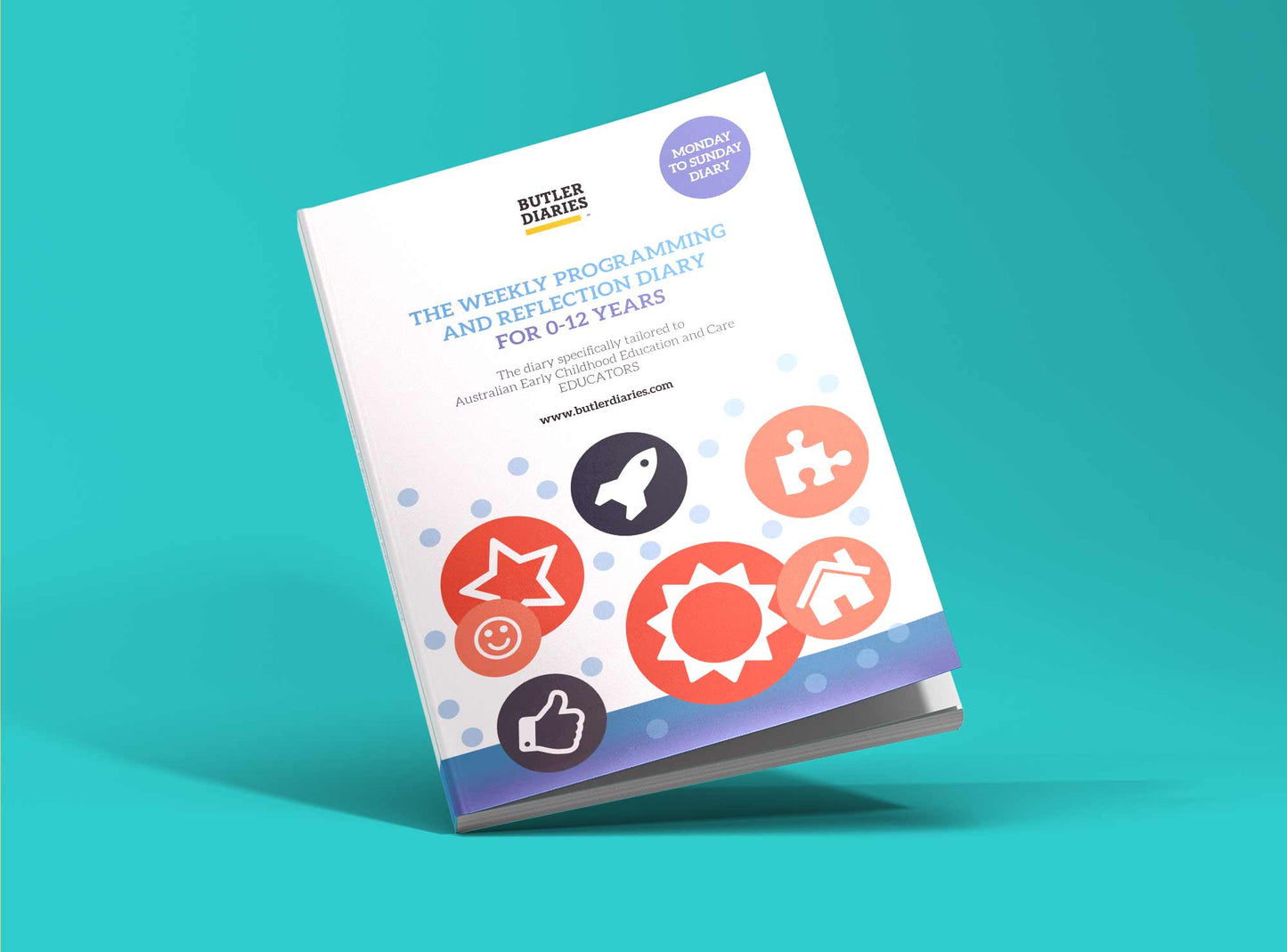 Reasons it's for you
'At a glance' weekly overviews displayed across two pages.
Evidence against the NQS, regs and the law
Helps with Quality Improvement
Reduces paperwork, photocopying and filing
Provides seamless record keeping all in one place.
Saves time, Easy to use
Who is this diary for?
Family Day Care Educators
Out of School Hours Care (OSHC/OOSH) Educators

Vacation / Respite Care Educators
Located:
Australia (all States)
Victorian Educators, you can now use this as it also references the VEYLDF.
How the 7 Day Programming Diary helps with compliance
The Weekly Programming and Reflection Diary:
Supports you in making decisions around the EYLF and MTOP Frameworks,
Considers Erikson, Piaget, Vygotsky, Gardner, Bronfenbrenner, and Montessori in its design,
Planning boxes prompt physical, social, emotional, cognitive, and language experiences, which are also linked to milestones and EYLF outcomes.
Links with the three exceeding themes; Embedded in Service Operations, Informed by Critical Reflection, and Shaped by Meaningful Engagement with Families and Community.
Applies the National Quality Standards, The Weekly Programming and Reflection Diary Covers:

1.1.1 Approved Learning Framework
1.1.2 Child-centred
1.1.3 Program learning opportunities
1.2.1 Intentional teaching
1.2.2 Responsive teaching and scaffolding
1.2.3 Child directed learning
1.3.1 Assessment and planning cycle
1.3.2 Critical reflection
1.3.3 Information for families
2.2.3 Child protection
3.1.1 Fit for purpose
3.1.2 Upkeep
3.2.1 Inclusive environment
3.2.2 Resources support play-based learning
3.2.3 Environmentally responsible
4.2.1 Staffing arrangements
4.2.2 Professional standards
5.2.1 Collaborative learning
6.1.2 Parent views are respected
7.2.1 Continuous improvement
See our Compliance Information Factsheet (next tab) designed to support you in identifying, reflecting on, and documenting how your service operations and practices are linked to frameworks, NQS, theorists, developmental milestones, and exceeding themes.
Supporting Documentation for this Diary
Shipping

Pre-order means it's at the printers and will be arriving soon (check note for estimated days). We generally process our in-stock orders within 24 hours and shipping is calculated at checkout (av. 2-3 days).

See Shipping Terms

Hassle-Free Returns

We will accept returns for any reason as long as the merchandise is in perfect resalable condition, in original packaging and the goods are returned within 60 days of purchase.

See Returns Form
Still waiting for a refund
Hi Nicole, I am so sorry to hear you haven't received a refund for your order. The warehouse is checking to confirm your return has been received so they can process it for you. I'll get in touch via email to support you in getting a refund.
Weekend date spaces could be better utilised
I really love this diary although I find the Saturday and Sunday columns not useful as none of us in our sector work weekends and this space could be a great spot for observations as there is not enough space in the observations to list enough links to documentation. Alternatively make the spaces bigger or add another column as we fill them every day. Development areas could also be incorporated into the columns?
Hi Rachel, thank you for your review. The 7-Day Diary is designed for Family Day Care services who operate over the 7 Days. We have a 5 Day Monday-Friday Diary for services operating only 5 days which includes larger boxes. For next year, we have combined the two which will allow those requiring weekends to use it in this way and for those who do not to have extra space for other documentation. Thank you for your feedback, we appreciate you taking the time to share your thoughts.
2023 Weekly Programming and Reflection Diary (7 Day) EYLF & MTOP
Another year another Butler diary. a great start and a comprehensive journal to keep everything in one place. thank you for the plastic cover
Thank you so much Vicki! You're very welcome! We hope you have a wonderful 2023!
Would have liked more space for critical reflections and notes
Hi Tracey, thank you for taking the time to leave a review. We appreciate the feedback!