Skip to product information
2023 The Tradie Diary
Regular price $ 46.95 Sale price $ 19.99 Save 57%
On sale for a limited time
Trusted Brand Used by 1000s

Flat $10.99 Domestic Shipping

Love it or your money back

Free and Easy Returns
Meet the best tool in The Tradie toolbox, The Tradie Diary for All Trades!
This is a 6 Month Diary for July to December 2023.
All the Tradie Diaries have now merged to become 'The Tradie Diary,' suitable for all Trades. We have brought together all the best tools from each Diary to create the ultimate Tradie Tool.
We are gearing up for a new and improved Tradie Diary, and we've created a 2023 6-month Diary, July to December, so you can be the first to try out the new layout!
Looking for 2023-2024 Financial Year Diary?
We are transitioning all Diaries to the Calendar Year, January to December. The highly discounted 2023 6-month Tradie Diary will transition all Financial Year customers to the Calendar Year.
Grab your 2023 6-Month July-December Tradie Diary to take you up to 2024! 
Looking for a full 2024 Tradie Diary?
Are you a Tradie that likes:
cost-effective solutions to flexible record-keeping?
staying organised even without reception?
showing off your professionalism and quality standard?
protecting your Tradie Business from unwanted claims and disputes?
If you answered yes to any of these, then The Tradie Diary is for you!
The Tradie Diary is an easy-to-follow yet indispensable tool for record-keeping and planning for any Tradie Business, from sole traders to larger businesses with staff.
In addition to this, The Tradie Diary is a record of actions, events, accomplishments, and incidents. Record activities in your Diary, hourly, daily, weekly, or monthly. 
A4, 1 day to a page and designed with everything you need as an Australian and New Zealand Tradie:
Jobs Today,

Prestart,
Day Log,
Photo and Vehicle Log,
Communication Record,
Staff and Subbie Record, and
Material and Delivery Record.
The Tradie Diary Benefits
All paperwork in one place
Easy reference to client addresses and numbers for the day
Helps to record tasks that you complete throughout your busy day

Save money on subscriptions and keep hard copy records
Keep track of variations and client communication

Helps with coordination of subbies and deliveries
Allows for easier preparation of reports by referring to your entries
Keeps track of vehicle readings and expenses for tax purposes
Make notes for quote preparation
Helps to keep a record of your daily activities such as clocking in and clocking out times
Can be used to record RDOs, sick days, absences, lunch time and other breaks
Record when and who gives you a task or to whom you give a task
Keeps daily records in case of WorkCover claims

Staff and subcontractors on site for the day

Site conditions for the day
Safety PPE considerations and prestart
WH&S record to protect your business
Records evidence in the case of legal proceedings or disputes

Provides a hard copy in your own handwriting (important for disputes)
"Absolutely love the diary helps me plan my jobs easily and efficiently , I prefer a written diary over an app just because I can easily read and adjust things if needed."
Recommended Products
Others have frequently bought these as well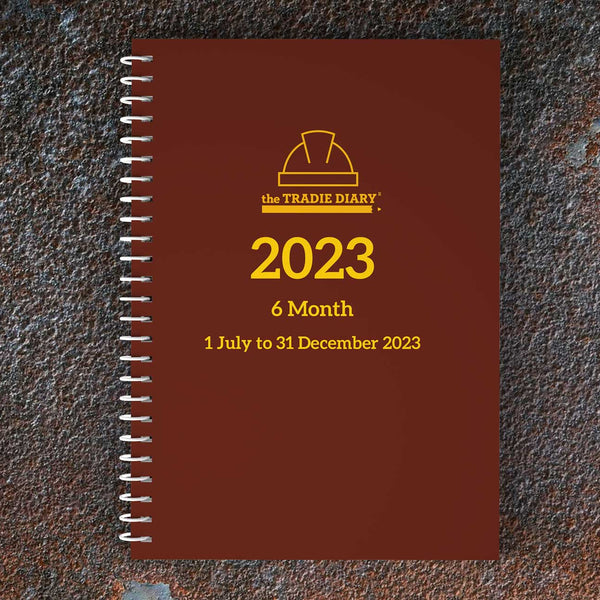 2023 The Tradie Diary
Regular price $ 46.95 Sale price $ 19.99
Recently Wishlisted
Add on optional description to this section
Great diary - 👍👍👍
Great diary
Used daily
Suits my needs totally and my team
Am getting them for the coming year
Really good product thank you
I'm buying more for sure !!
Mark
Thanks so much Mark! We can't wait to get next year's Diary to you too!
Latest Articles
In the bustling world of trades and construction, where skills, precision, and hard work are celebrated, there lies a less visible but equally significant aspect: the mental health and wellbeing of our tradies. From carpenters to electricians, plumbers to builders, these professionals are the backbone of our communities. Yet, the mental pressures and strains they face often go unnoticed.

In the dynamic field of construction, where projects evolve at a rapid pace and timelines are tight, effective team management is the cornerstone of success. As leaders, Site Supervisors, or Project Managers, guiding a diverse workforce towards a common goal requires more than technical know-how; it demands a harmonious blend of leadership skills, interpersonal insights, and an unerring focus on the bigger picture.

The construction industry, known for its complexity and dynamism, operates on a framework that ensures every nail, bolt, and beam aligns with meticulous standards. In Australia, compliance and safety regulations aren't mere guidelines; they are the backbone of our construction ethos, safeguarding both the quality of structures and the well-being of the professionals who build them.