Regular price
$ 46.95
Sale price
$ 19.99
Unit price
per
Sale
Sold out
Meet the best tool in The Tradie toolbox, The Tradie Diary for All Trades!
This is a 6 Month Diary for July to December 2023.
All the Tradie Diaries have now merged to become 'The Tradie Diary,' suitable for all Trades. We have brought together all the best tools from each Diary to create the ultimate Tradie Tool.
We are gearing up for a new and improved Tradie Diary, and we've created a 2023 6-month Diary, July to December, so you can be the first to try out the new layout!
Looking for 2023-2024 Financial Year Diary?
We are transitioning all Diaries to the Calendar Year, January to December. The highly discounted 2023 6-month Tradie Diary will transition all Financial Year customers to the Calendar Year.
Grab your 2023 6-Month July-December Tradie Diary to take you up to 2024! 
Looking for a full 2024 Tradie Diary?
Are you a Tradie that likes:
cost-effective solutions to flexible record-keeping?
staying organised even without reception?
showing off your professionalism and quality standard?
protecting your Tradie Business from unwanted claims and disputes?
If you answered yes to any of these, then The Tradie Diary is for you!
The Tradie Diary is an easy-to-follow yet indispensable tool for record-keeping and planning for any Tradie Business, from sole traders to larger businesses with staff.
In addition to this, The Tradie Diary is a record of actions, events, accomplishments, and incidents. Record activities in your Diary, hourly, daily, weekly, or monthly. 
A4, 1 day to a page and designed with everything you need as an Australian and New Zealand Tradie:
Jobs Today,

Prestart,
Day Log,
Photo and Vehicle Log,
Communication Record,
Staff and Subbie Record, and
Material and Delivery Record.
Customisation

Do you have an idea for a diary or other product? We can look into that for you.
How about some custom designed covers for larger order? No problems at all.
View full details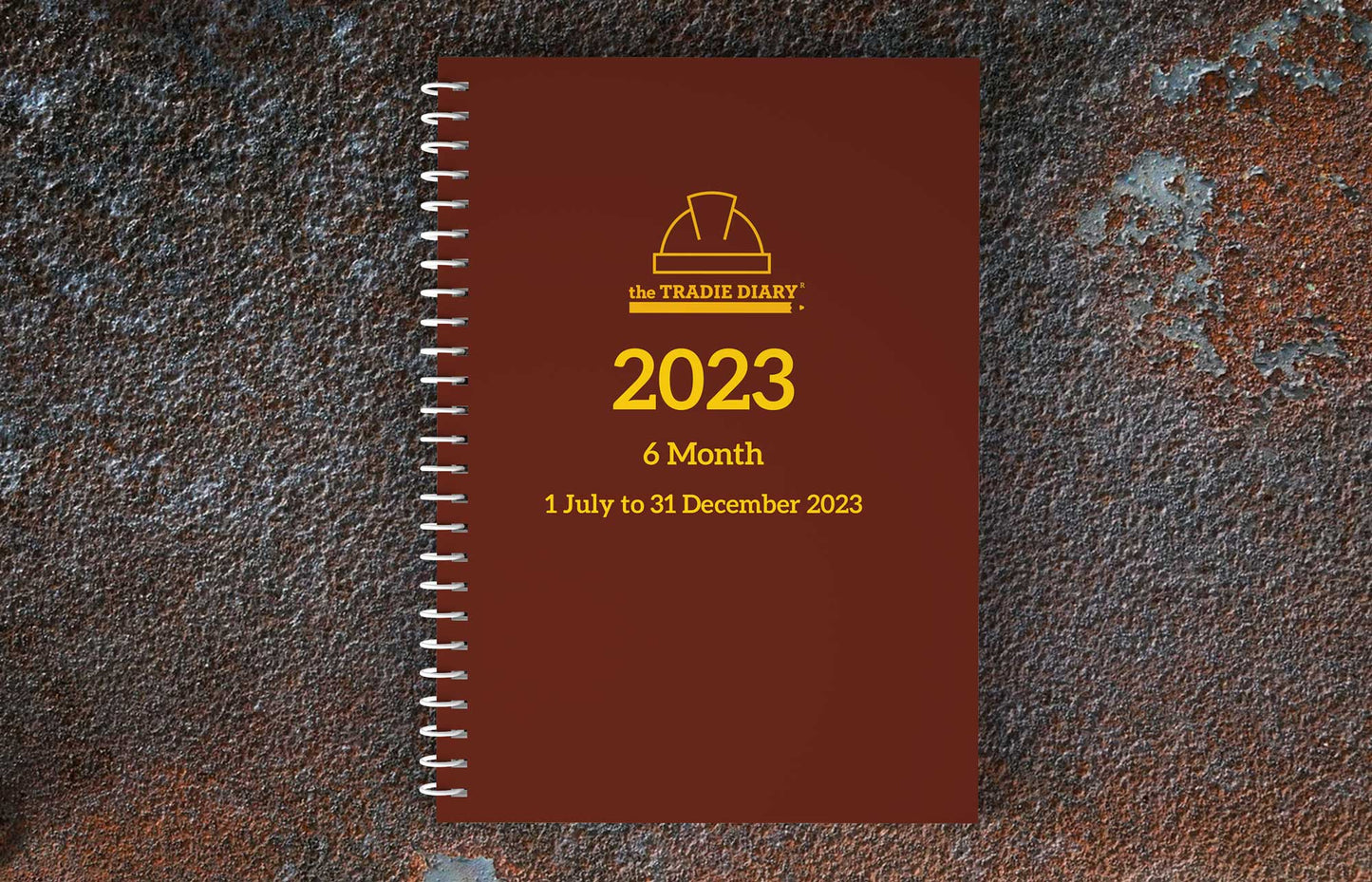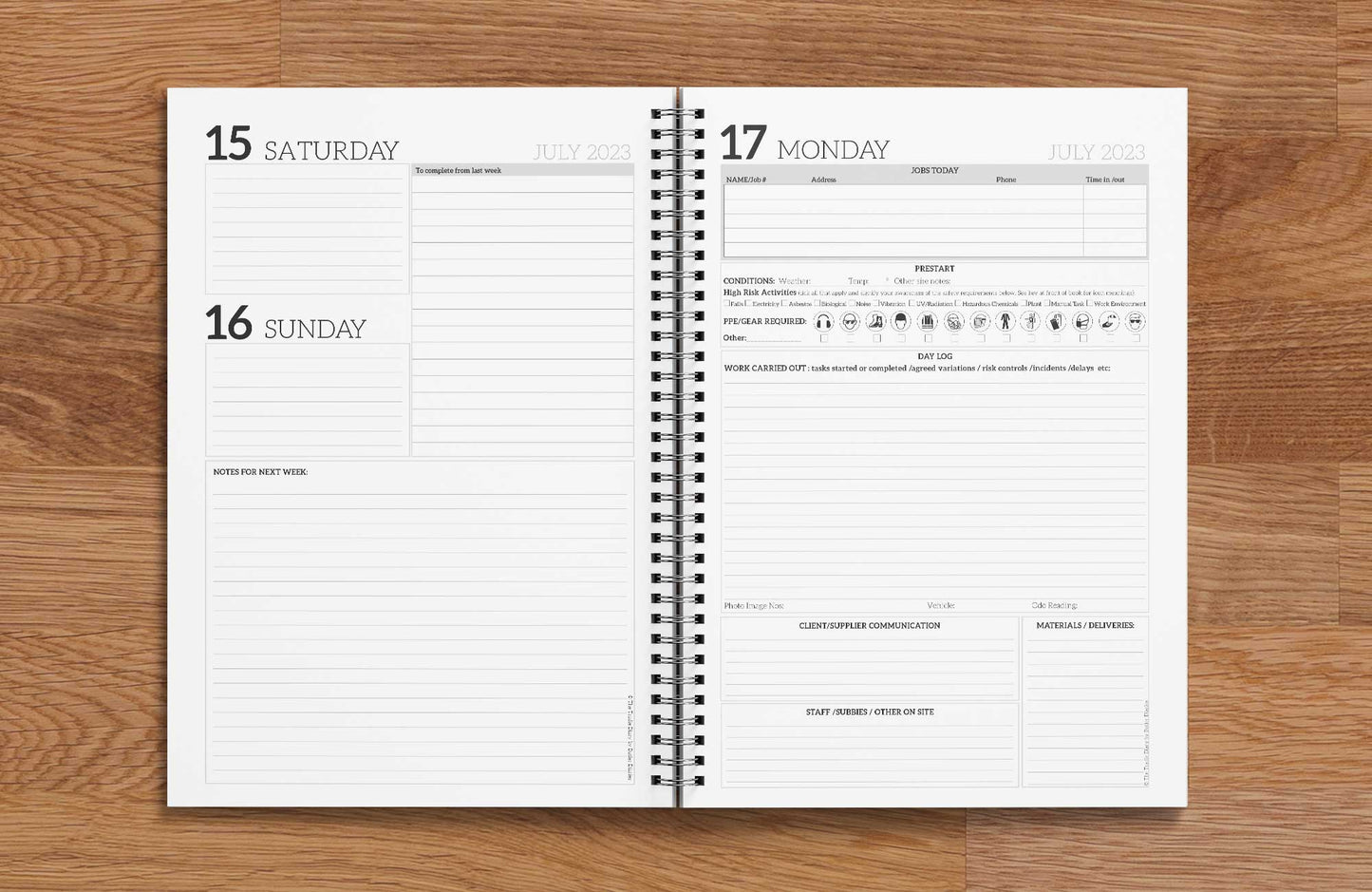 The Tradie Diary Benefits
All paperwork in one place
Easy reference to client addresses and numbers for the day
Helps to record tasks that you complete throughout your busy day

Save money on subscriptions and keep hard copy records
Keep track of variations and client communication

Helps with coordination of subbies and deliveries
Allows for easier preparation of reports by referring to your entries
Keeps track of vehicle readings and expenses for tax purposes
Make notes for quote preparation
How The Tradie Diary helps with compliance
Helps to keep a record of your daily activities such as clocking in and clocking out times
Can be used to record RDOs, sick days, absences, lunch time and other breaks
Record when and who gives you a task or to whom you give a task
Keeps daily records in case of WorkCover claims

Staff and subcontractors on site for the day

Site conditions for the day
Safety PPE considerations and prestart
WH&S record to protect your business
Records evidence in the case of legal proceedings or disputes

Provides a hard copy in your own handwriting (important for disputes)
Look inside The Tradie Diary
Shipping

Pre-order means it's at the printers and will be arriving soon (check note for estimated days). We generally process our in-stock orders within 24 hours and shipping is calculated at checkout (av. 2-3 days).

See Full Shipping Terms

Hassle-Free Returns

We will accept returns for any reason as long as the merchandise is in perfect resalable condition, in original packaging and the goods are returned within 60 days of purchase.

See Returns Form