Skip to product information
Bookmark - Watercolour Feathers - 30 pack
Regular price $9.00 Sale price $5.00 Save 44%
On sale for a limited time
Trusted Brand Used by 1000s

Flat $10.99 Domestic Shipping

Love it or your money back

Free and Easy Returns
Introducing our Feather Bookmarks, a delightful addition to your diary experience. This package includes 30pcs of different kinds of bookmarks, each crafted with care and attention to detail.
We have used high-quality 350g white cardboard to ensure durability and longevity. The sturdy material guarantees that these bookmarks will withstand frequent use and remain in pristine condition.
With dimensions of 155mm L x 45mm W x 15mm H, these bookmarks offer a perfect size that fits comfortably between the pages of your favourite books without causing any damage or obstruction.
Our Feather Bookmarks are a feast for the eyes with their vibrant and captivating four-color printing. The beautiful and colorful designs are sure to catch your attention and add a touch of elegance to your reading materials.
Beyond their practical use as bookmarks, these feather-inspired creations offer endless possibilities for creativity. They can be used for various arts and crafts projects, making them an excellent choice for DIY enthusiasts. Decorate your scrapbooks, journals, or handmade gifts with these realistic feather designs to add a unique and personal touch.String them up for a garland effect!
Whether you are an avid reader, a creative soul, or simply looking for a thoughtful gift, our Feather Bookmarks are an ideal choice. With their creative design and versatile applications, they are sure to enhance your reading experience and bring joy to your artistic endeavours.
Recommended Products
Others have frequently bought these as well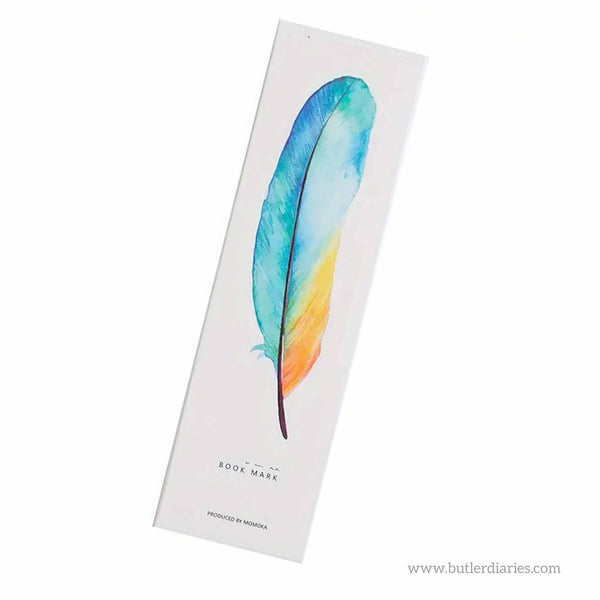 Bookmark - Watercolour Feathers - 30 pack
Regular price $9.00 Sale price $5.00
Recently Wishlisted
Add on optional description to this section