Skip to product information
2023 Early Childhood Cook's Diary
Regular price $32.00 Sale price $14.00 Save 56%
On sale for a limited time
Trusted Brand Used by 1000s

Flat $10.99 Domestic Shipping

Love it or
your money back

Free and Easy
Returns
Introducing the Childcare Centre Diary for COOKS!  Plan and document your menus, supplies, kitchen maintenance and program support with this tailored diary especially for cooks and chefs in early childhood services for 2023.

In these pages you will find useful planning and mapping tools like the years at a glance, year planner, important dates and contacts, regulations summary and EYLF learning outcomes.

There is space to record information about children and parents, supplier details and your details.

Most importantly there are specific tools which will help you meet compliance and assessment requirements - all in one handy diary. (Ring binder discontinued - refill available)
Reasons it's for you
Each day you can record:
• menu plans
• shopping lists
• recipes
• out of pocket expenses
• general communication and a to-do list
• meetings / orientations / training
Each week, make notes for your week ahead including orders and menu planning.
Weekly and Yearly checklists for your Food Safety Program and Kitchen maintenance.
The Early Childhood Cook's Diary:
Supports you in making decisions around the EYLF and MTOP Frameworks,
Considers Maslow's Hierarchy of Needs, Dewey, and Bronfenbrenner in its design,
Prompts you in applying health and safety practices to enable children's development,
Links with the exceeding themes; Embedded in Service Operations and Shaped by Meaningful Engagement with Families and Community.
Applies the National Quality Standards, The Childcare Cook's Diary Covers:

1.1.1 Approved Learning Framework
1.1.2 Child-centred
1.2.1 Intentional teaching
2.1.3 Healthy lifestyle
2.2.3 Child protection
3.1.2 Upkeep
3.2.3 Environmentally responsible
4.2.1 Professional collaboration
4.2.2 Professional standards
5.1.2 Dignity and rights of the child
6.1.2 Parent views are respected
6.2.3 Community engagement
7.1.1 Service philosophy and purpose
7.1.2 Management systems
See our Compliance Information Factsheet (next tab) designed to support you in identifying, reflecting on, and documenting how your service operations and practices are linked to frameworks, NQS, theorists, developmental milestones, and exceeding themes.
Recommended Products
Others have frequently bought these as well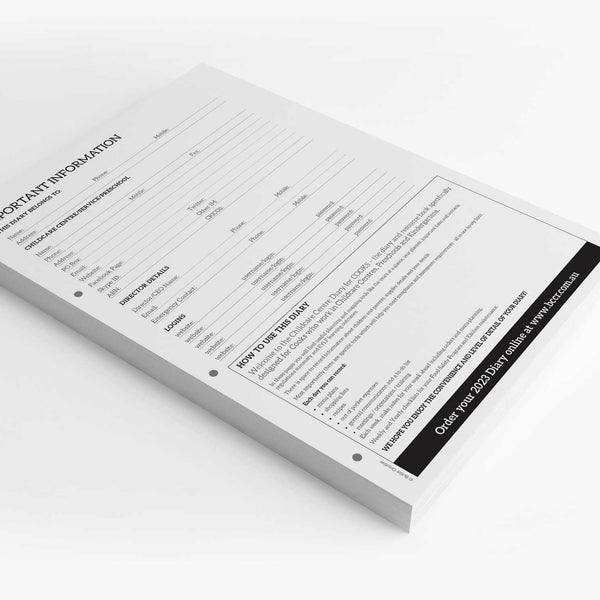 2023 Early Childhood Cook's Diary
Regular price $32.00 Sale price $14.00
Recently Wishlisted
Add on optional description to this section
Easy to use all documentation in one place.
Thank you so much Maree! We love hearing how our Diaries are helping you simply your documentation process.